[Home]

›
[Attractions]
› [Panorama Istanbul]
Panorama Istanbul 1453
Historical Museum. Tourist Info.
Panorama Istanbul is a historical museum with 3-D depiction of 1453 events in Constantinople (now Istanbul) when Ottoman Sultan Mehmed II broke through the Byzantine walls and conquered Constantinople. The museum is located in Topkapi park in Istanbul's Zeytinburnu disctrict (do not confuse with park of Topkapi Palace).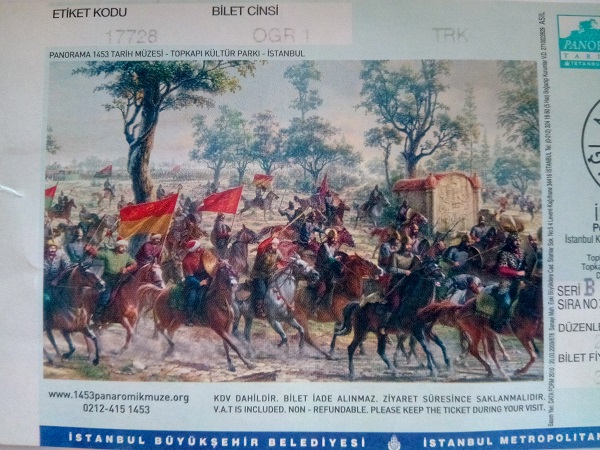 Ticket for Panorama 1453 historical museum in Istanbul
Location: Merkez Efendi neighborhood. Topkapi Kultur Parki (Topkapi Cultural Park), Zeytinburnu, Istanbul.
Take T1 tram to Topkapi Istasyonu stop (8 stops from Sultanahmet).  Buses stop at Panorama 1453 stop and run from Taksim and many other places. Look for transportation traveling in the direction of Topkapi.
Make sure you get off at the right stop. Do not go all the way to Zeytinburnu metro/bus stop.
Ticket price: 15 Turkish Liras. We advise to purchase tickets at the venue as opposed to online. 
Audio guide 10 Turkish Liras.
Opening hours: every day 8:00-18:00

Wheelchair accessible.
Panorama Istanbul attracts history lovers
Panorama 1453 in Istanbul provides historical details of the battles and life beyond war during the siege of Constantinople. This period in Turkey's history is described in full with text and visuals (we do advise you borrow an audio guide as the text is mostly in Turkish).
Picturesque 360 presentation of how events unfolded during the siege is what most visitors come to the museum for. Pictures are accompanied with music suitable to those evens, rifle sounds, horses' snorting, soldiers' chatter and cheer. Sounds coupled with special light effects give a feeling of being right at the scene on May 29, 1453. Many visitors report very realistic feelings and experience.
Panorama Istanbul is set up to provide lots of historical data in visual form as well as written. Some data may vary from views of European historians. Audio guide available in several languages provides a better in-depth narratives. Mind that most exhibits' descriptions are in Turkish.

What the experience is like and tips
Panorama Istanbul is a first museum of its kind in Turkey. Eight painters worked on the visual 3-D exhibitions and drew about 10,000 figures including people, animals and armor in real size. Each painted scene has been discussed with a number of historians.
The entire two-story building of the museum is dedicated to the Panorama and has an adjacent outside park with recreation area for kids.
First floor of the museum has descriptions and artifacts remained from the war. The second floor is the covered dome which carries the 3-D paintings. The composition has no beginning or an end. This is one flowing exhibition going round and around with chronological scenes of battles, resting points, medical personnel and other together with corresponding sounds. It is impressive and puts you in an atmosphere of the those times.  
Parts of Byzantine walls surround the museum. This is the exact wall Ottoman Sultan Mehmed II broke through to enter Constantinople on May 29, 1453 and proclaim the city Istanbul. Take a walk around and make pictures.

Plan to spend at least an hour at the museum. A gift shop is full of souvenirs and historical books which will require additional time and attention.
There are no other attractions around Panorama 1453 historical museum in Istanbul. However, Sultanahmet with many tourist attractions is only 8 stops away by metro or a 6-8 minute taxi ride. 
Enjoy!