[Home]
› [Attractions]
Best Istanbul Tourist attractions
Check out over 30 best Istanbul tourist attractions for sightseeing.  They are the most popular among first-coming tourists.  Start with the top 7 and scroll down to see more sightseeing choices.  The city has different variations to offer.
Experience romantic fortresses, mysterious islands, magnificent mosques.  Visit one and only theme park in Istanbul Isfanbul (a.k.a. VIALAND.)     

1. Hagia Sophia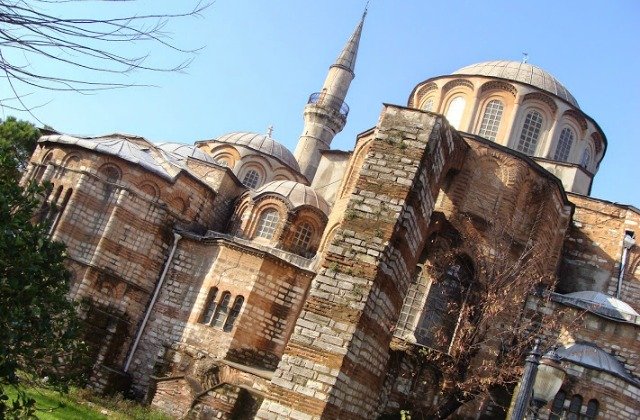 Hagia Sophia (Part Of Museum Pass Istanbul) was originally built as a church.  It then became a mosque when Ottomans took over Istanbul.  The original construction remained untouched.  Only attributes of a mosque were added - minarets and domes.  When Turkey became a republic the Hagia Sophia became a museum and number one among Istanbul tourist attractions.  Read more about Hagia Sophia.  
2. Blue Mosque
© Dani3315 | Dreamstime.com
Blue Mosque is a magnificent mosque from Ottoman times which is still in use today.  The construction was commissioned by Ottoman Sultan and carries his name "Sultan Ahmet Camii".  The name "Blue Mosque" was acquired as a result of bluish tiles used to decorate the interior of the construction.  Read more about Blue Mosque. 

3. Topkapi Palace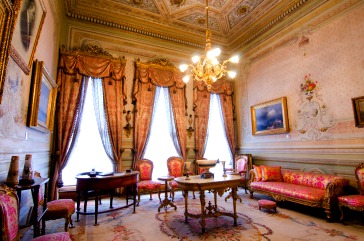 © Nasimi Babaev | Dreamstime.com
Topkapi Palace (Part Of Museum Pass Istanbul) is a Palace of Ottoman Sultans.  Walk through rooms of where Sultans lived, worked and received guests.  This is the richest of all Istanbul tourist attractions.  See treasures and clothing worn in those times.  The Topkapi Palace is now a museum and is open to visitors and exhibitions.  Read more about Topkapi Palace.  

4. Galata Tower
Galata Tower is Genoese construction made of stone.  This impressive structure was originally built to serve as a watch tower.  There is now a museum, a gift shop and a cafe/restaurant on top floor.  Climb all the way to the top for a great view of Istanbul.  Read more about Galata Tower.   
5. Grand Bazaar
Lamps at Grand Bazaar
Grand Bazaar is a covered market in Istanbul with traditional Turkish and Asian arts and crafts.  This is number one place for shopping for jewelry, antiques and leather.  The Grand Bazaar is a city-like historical market with old shops, narrow streets, everything you can imagine to buy and small traditional Turkish eateries.  Read more about Grand Bazaar.  

6. Spice Market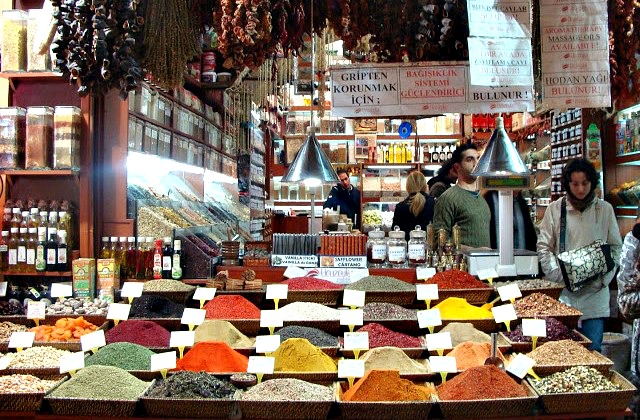 Shop in Spice Market
Spice Market is where you go to find herbs, oils, teas and any smells that come to mind.  Over 300 years ago the market was established for trading spices brought to Istanbul from Egypt.  It is now among most visited Istanbul tourist attractions.  "Egyptian Bazaar" is another name that the Spice Market is known by.  Read more about Spice Market.  

7. Basilica Cistern
Medusa head at Basilica Cistern
Basilica Cistern is an underground water system.  What makes this construction unique is the stones brought from various parts of Ottoman Empire to complete the project.  Medusa Head is the most popular thing to see in the Basilica Cistern.  Read more about Basilica Cistern.   
Istanbul sightseeing map
Istanbul tourist attractions:
Mosques
Mosque from Arabic means a place of worship.  Other words used for mosque are Masjid or Masjed.  Mosques are used for praying by followers of Islam.  
Since 1453 when muslim Ottomans started ruling in Istanbul, the city has opened 3000 active mosques to date.  Each mosque has a different number of domes and minarets.  Each mosque has a prayer hall.  The architecture of buildings varies depending on when the mosque was built.  Istanbul has mosques from Byzantine times, Ottoman times and post-Ottoman times.  See below a list of most prominent mosques in Istanbul.   
Suleymaniye Mosque
Suleymaniye Mosque is the largest mosque in Istanbul.  Ottoman Sultan Suleiman I, also known as the Magnificent, commissioned the construction.  It was built between years 1550 and 1558.  Tombs of Sultan Suleiman and his one and only lawful wife Roxelana are located on the territory of this mosque.
Read more about Suleymaniye Mosque.
Mihrimah Sultan Mosque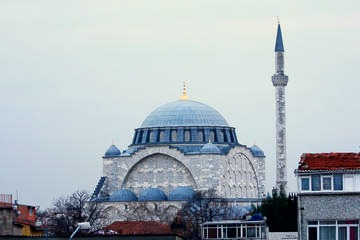 Tours with Mihrimah Sultan Mosque
Mihrimah Sultan Mosque is a sort of continuation of Suleymaniye Mosque.  Sultan Suleiman the Magnificent ordered to build a small mosque on 6th hill of Istanbul for his beloved daughter Mihrimah.
Read more about Mihrimah Sultan Mosque
Istanbul Museum Pass
(Muzekart in Turkish)
Istanbul Museum Pass is valid for 12 most popular Istanbul tourist attractions and saves you money.  Any city guest over the age of 12 can benefit from the pass.  It is valid for 72 hours starting from your first visit of a museum.  Purchase your pass at a hotel (you don't have to be hotel's guest to purchase the pass), at Topkapi Palace Museum, Hagia Sophia Museum, Chora Museum or Istanbul Archaeological Museums.
Look for vans with colorful "Muzekart +" picture on it.  You can safely buy your Museum Pass from them.
You can also buy a pass online.  Buying your pass online does not save you from a trip to a hotel or a museum. You will have to pick up your actual Museum Pass Istanbul from one of the retailer locations.
Istanbul tourist attractions: 
Palaces
Sultans of Ottoman Empire lived and worked in these palaces. Constructions cover the period from 15th to 19th century.  There are also summer houses - mansions where sultans rested, received guests and threw parties.
Dolmabahce Palace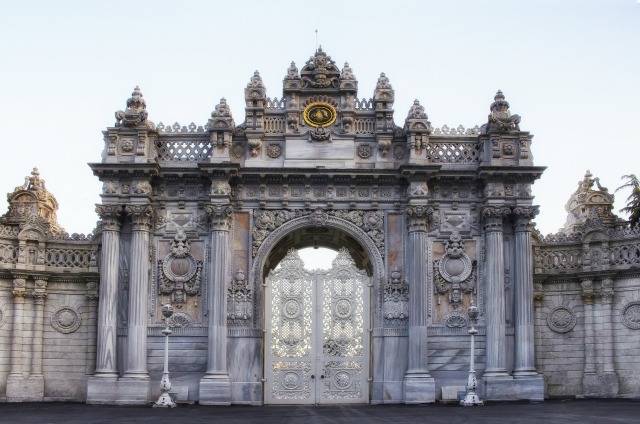 © Theendup | Dreamstime.com
Dolmabahce Palace was home to six Ottoman Sultans who ruled after year 1856.  Located in Besiktas neighborhood on the waterfront of Bosporus, the palace stands out from the water.  In 1924 founder of Turkish Republic Mustafa Kemal Ataturk assigned the palace to the national heritage and used it as his summer residence.  Ataturk spent his last days in this palace.  Today Dolmabahce Palace is a museum. Read more about Dolmabahce Palace
Ciragan Palace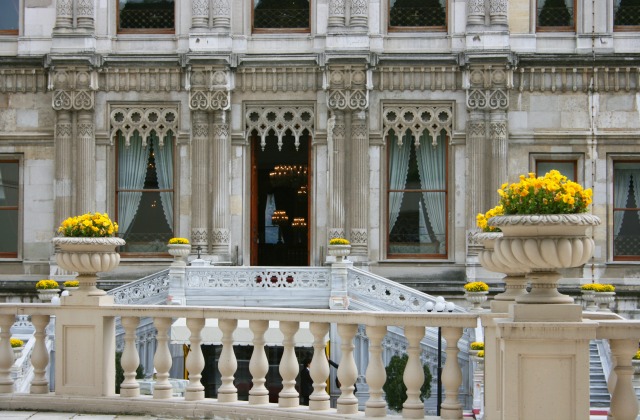 © Desertofsnowflake | Dreamstime.com
Ciragan Palace is a former Ottoman palace which now serves as a luxury hotel.  There are no tours of the palace yet it is one of the Istanbul tourist attractions.  You can get in by enjoying their facilities which include various eateries beside hotel rooms.  Read more about Ciragan Palace
Beylerbeyi Palace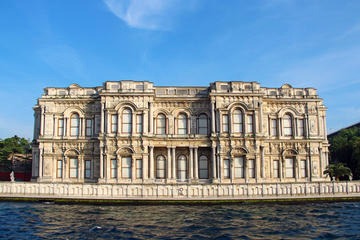 Beylerbeyi Palace was built at the order of Sultan Abdulaziz on the Asian side of Istanbul.  The original construction was made of wood in 1863 and got destroyed by fire.  Today it is a three-story palace with preserved rooms from Ottoman times.  Exquisite  furniture and china are carefully protected from damage.  Many find resemblances between Beylerbeyi Palace and the Dolmabahce Palace.
List of Istanbul Museums
Istanbul museums are very popular among Istanbul tourist attractions. Enjoy collections of modern art or archaeological discoveries.  Purchase Istanbul museum pass to save on entry fees.  Entertain your curiosity at displays with technological and industrial findings. Read more about Istanbul museums.
Istanbul tourist attractions:
Towers
Tall and prideful towers watch over Istanbul.  Take a look at the city's beauty from the top of one of the towers.  They carry history, legends and mystery in them.
Maiden's Tower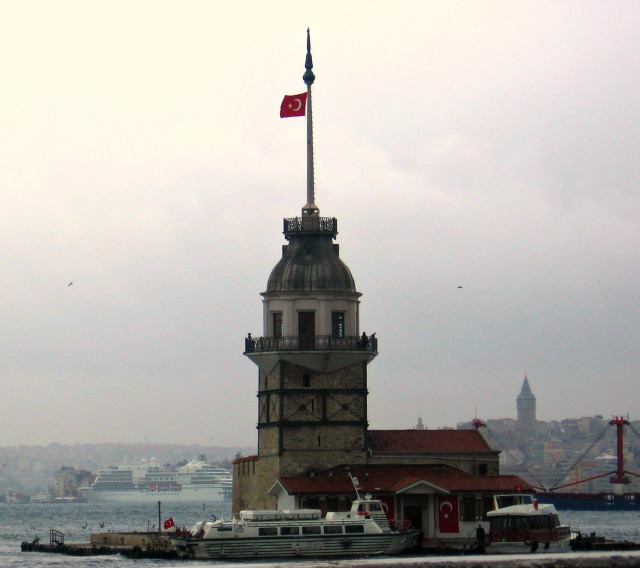 Maiden's Tower is a tower built during Byzantine times on an island in the Bosphorus.  Reach the tower by taking a boat.  Several legends are associated with the construction.  Top of the tower is open for visits and offers one of the best views among Istanbul tourist attractions.  Read more about Maiden's Tower
Dolmabahce Clock Tower
Dolmabahce Clock Tower is located on the territory of the Dolmabahce Palace, near the Dolmabahce mosque.  This four-story baroq-style tower is a first stop on the way to the entrance of the Palace.  The tower was added to the Dolmabahce in 1895.  Read more about the Dolmabahce Clock Tower.
---
Egyptian Obelisk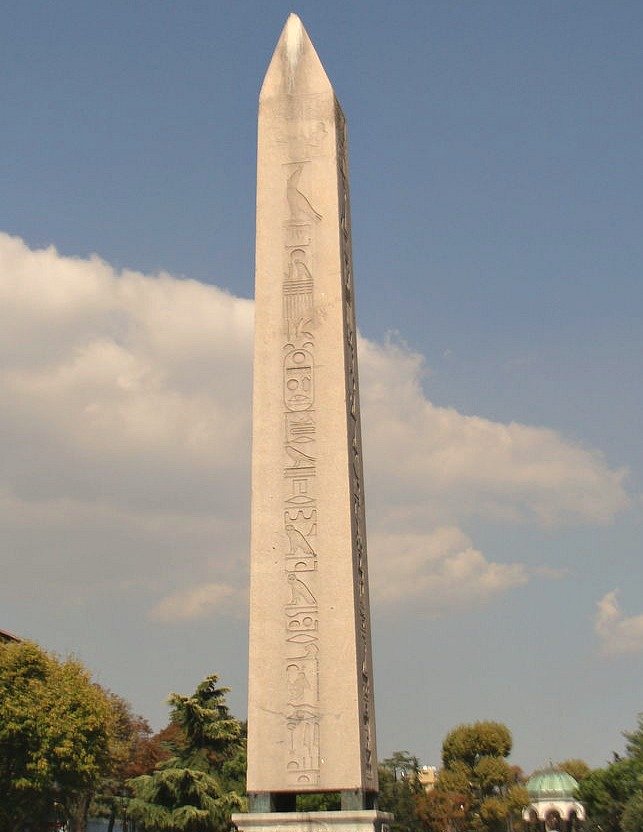 Egyptian Obelisk is a monument brought to Constantinople from Egypt by Roman Emperor.  He ordered to place the obelisk in Hippodrome of Constantinople to commemorate his 20th anniversary as a ruler.  Read more about Egyptian Obelisk.
---
Istanbul bridges, fortresses, stairs, hills
Galata Bridge
Galata Bridge runs over the Golden Horn and has a history starting from the Byzantine times.  Several bridges were built in the same place to connect both sides of the Golden Horn.  Leonardo da Vinci's principles were used to make the construction.   
Bosphorus Bridge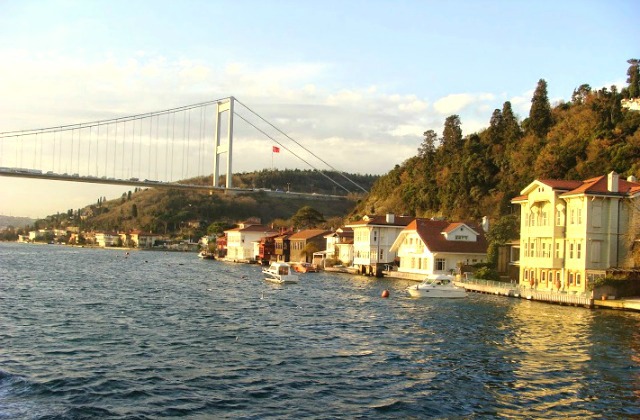 Bosphorus Bridge makes travel between the European and Asian continents in Istanbul possible.  Built in 1973 over the Bosporus Strait the Bridge is a very important part of the city and among top Istanbul tourist attractions.  Read more about Bosphorus Bridge
Pierre Loti Hill
Pierre Loti hill is an area in Istanbul named after a french poet who lived on the hill.  Pierre Loti is located in Eyup area overlooking Golden Horn.  The hill is popular for a great view, authentic cafe with Turkish coffee, historical graveyard and a cable cart which brings visitors to the top of the hill.  Read more about Pierre Loti
Rumeli Fortress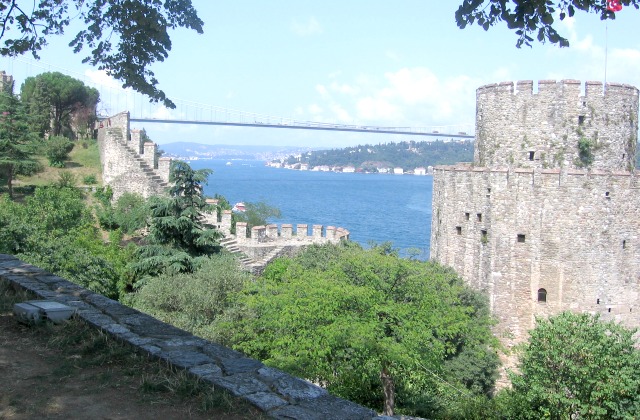 Rumeli Fortress was built at the narrowest point of the Bosphorus Strait by Ottoman Sultan in 1452 as a strategy to capture Constantinople.  It took thousands workers to complete the project in one year.  Today the Fortress is a museum. Read more about Rumeli Fortress
Camondo Stairs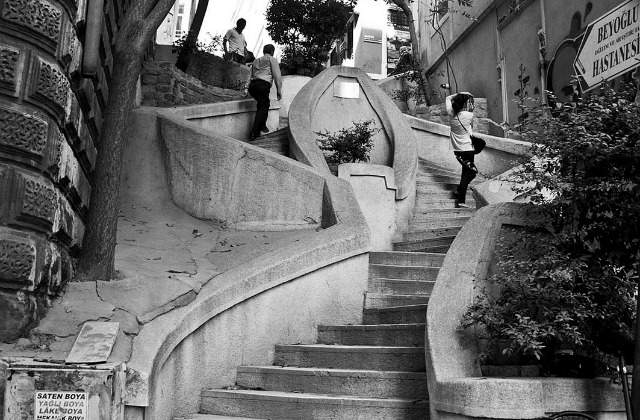 Camondo Stairs are located in Galata area of Istanbul.  The steps were especially built by Jewish family the Camondo in 1880.  Stylish staircase provided a shorter travel to work and school for the family which lived on Banker street in Istanbul.  This is one of the hidden Istanbul tourist attractions.  Read more about Camondo Stairs.
Natural attractions
For lovers of outdoors there are parks and islands among Istanbul natural attractions.  The city in general is very green.  You can see many small parks around equipped with exercise corner and slides for children.  Great city for visiting with kids.  Visit in April and see how the city turns into tulip heaven.  Savor over 10 million tulips around the city!
Emirgan Park
Emirgan Park is a largest and oldest public park in Istanbul located in Sariyer disctrict.  The park's history dates back to the Byzantine times when the entire territory was covered with cypress trees.  Emirgan has a pond with swans, several pavilions, playground for children and dozens types of trees and flowers planted. 
Miniaturk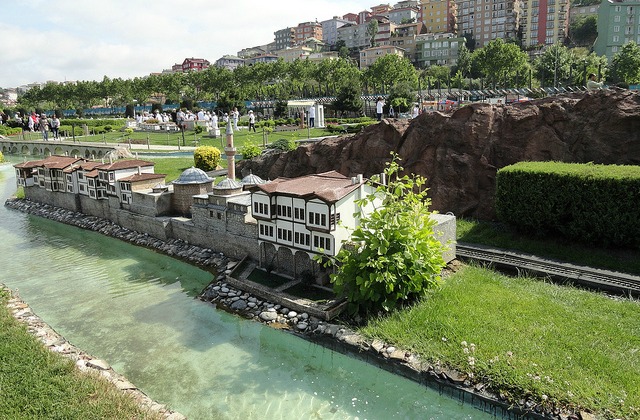 Miniaturk is one of the world's largest miniature parks located in Istanbul's Sutluce district. The open-air park displays over 100 models of world-known structures.  Scale used to reproduce the models is kept to 1:25.  Read more about Miniaturk
Princes' Islands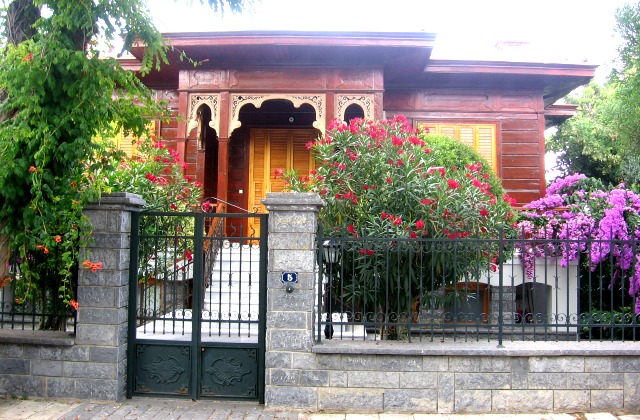 Princes' Islands are located in the Sea of Marmara and are part of Istanbul's municipality.  Four islands make up the Princes' Islands.  Buyukada is the largest and most visited island by tourists.  Several boats depart from Istanbul's coast to Buyukada.  There are historical churches, mosques and mansions on the island.  Read more about Princes' Islands.
IsFanbul Theme Park (VIALAND)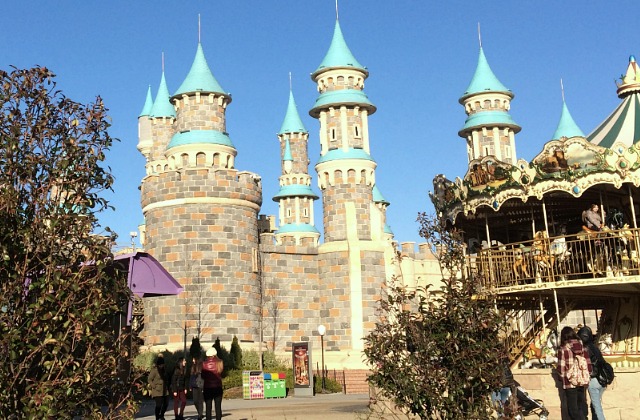 VIALAND (recently renamed to Isfanbul) is an amusement park in Istanbul with rides and carousels.  The park opened its doors in 2003 and has been a very popular Istanbul tourist attraction among children and adults.  Read more about Isfanbul theme park
Turkish baths
Hamam is a Turkish bath.  A perfect way to get free of tiredness is to get a bath like the Ottoman's did.  Enjoy the history of Ottoman architecture and relax at the same time.  
(1) Watch Steam: The Turkish Bath (1977) movie about an Italian traveling to Istanbul to restore a historical hamam.  Get a closer look at hamams from the inside and Turkish culture, including Istanbul view, Ataturk Airport with Havatas signs outside of the airport, Turkish coffee drinking and fortune telling and much more.
The temperature in the hamam is about 45 ºC (113 ºF).  Humidity 100%.  Some hamams let both men and women sweat in the same area.  Some have separate rooms for ladies and gentlemen.  There are 60 hamams in Istanbul.  The ones below are definitely worth putting on your list of Istanbul tourist attractions to visit and getting a massage.
Cemberlitas hamam
Cagaloglu hamam
Galatasaray hamam
Enjoy Istanbul - the  city of 7 hills.

Like it? Pin it!