[Home]

›
[Things to do]
› [Jewish quarter]
Balat Neighborhood in Istanbul

History, things to do & tips
Balat is a Jewish settlement in Fatih district of Istanbul (Turkey).  The small area was populated by Sephardi Jews (The Jews of Spain) in 1492. Today this authentic settlment is in UNESCO World Heritage program. 
Colorful houses in Balat. Photo by Mireia Saenz
Location: Fatih, Istanbul.  Between Ayvansaray Avenue and Golden Horn.  Take a metro to Emniyet-Fatih stop, or Topkapi-Ulubati stop.  Balat is 30-35 minutes away from those stops by foot.  You can also walk from the Grand Bazaar on back streets and along the Golden Horn.  The walk takes about 1 hour.
---
---
Before Balat history
Since the year 1000 Sephardi Jews lived in Iberian Peninsula, a current territory of Spain, Portugal, Andorra and part of France.  The peninsula was under the rule of Roman Empire.  Population practiced mostly Christianity.
In 1492 Alhambra Decree came to life.  The Decree was ordered by joint Catholic Monarchs of Spain - husband and wife Ferdinand II and Isbella I.  The document was issued in March and gave Jews and Muslims 4 months to convert to Christianity or leave Kingdoms of Castile and Aragon (Spain).  Those who did not convert or leave were executed without trial.
Many Jews fled to Ottoman Empire.  Those who did convert to Christianity secretly practiced their own religion and were expelled from Spain in 1600s upon discovery of their practice.
In 1968 the Alhambra Decree was formally abolished.  Only 46 years after the abolition, in 2014, the government of Spain offered dual citizenship opportunity to the descendants of those expelled from Spain in 15th century.  
---
"He who has impoverished his own country and enriched mine!"
---
Ottoman Sultan Bayezid II criticized Ferdinand II and Isbella I 's actions. He sent ships to Spain to safely bring Sephardi Jews and Muslims to the Ottoman Empire.  The Sultan granted the refugees Ottoman citizenship and ordered locals to treat the new residents with respect.

---
Things to do in Balat
Depending on which route you chose to come to Balat consider taking a look at attractions in this area in the order applicable to you.

Try to get into Ahrida synagogue.  You need to book in advance in order to get in.  In 2003 a bomb exploded near a synagogue in Taksim.  57 people died, 700 were wounded.  This is why today synagogues in Istanbul require prior reservations for visiting. Email security@musevicemaati.com for information before visiting.

On Wednesday, walk through the public bazaar (Carsamba pazari in Turkish).  It is set up once a week, only on Wednesdays, on Darussafaka Avenue.  Mix with the locals and experience the unforgettable atmosphere of Turkish bazaar culture.

Visit Ecumenical Patriarchate of Constantinople (Rum Orthodox Patrikhanesi in Turkish).  This is a Mother Church of the most modern Orthodox Churches.  Historically it was  built on the territory of Eastern Roman Empire.  The head of the church Bartholomew I is considered as a spiritual leader of world's 300 million Orthodox Christians.

Look in little antiques and vintage shops.  Breathe in the smell of history and buy a souvenir at one of these shops.  "Naftalin" on Yildirim Avenue 27 is one of them.  



Look in Fatih Mosque.  This large complex was built between 1463 and 1470.  The mosque was named after the conqueror of Constantinople - Fatih Sultan Mehmed.  Fatih Mosque is an example of early classic Turkish architecture.  The building was not only used for religious purposes but also played an important role as a social place.  It had a school for boys (medrese), library, Turkish bath (hamam), hospital and a public kitchen.

Go into the Bulgarian 

St Stephen

 Church (Bulgar kilisesi in Turkish).  The Bulgarian minority of Istanbul pray here.  An Ottoman statesmen of Bulgarian origin Stefan Bogoridi donated his house in 1849 to the Bulgarian community.  The house was converted into a church but fell apart because of the earthquakes.  Today the Bulgarian church is made of cast iron and has rich ornaments inside.  Enjoy the sound of the six bells on the church' towers.
Chora Museum
Inside Chora Museum. Photo by Ted Drake.
Visit the Chora Museum (Kariye Muzesi in Turkish).  The Chora is one of a very few Byzantine constructions survived in almost its original form to our days.  The exact construction date is unknown.  It was built as a Church by Constantine, then converted to a mosque by Ottomans in 16th century and became a museum in 1948 when Turkey became a Republic.  Appreciate the fine mosaics, frescos and marbles considered as the most beautiful from the Byzantine times.
Location: Ayvansaray Mh., Kariye Cami Street No:26, Fatih, Istanbul (Balat area) Price: 15 Turkish Liras.  The Museum is part of Istanbul Museum Pass.  Hours: summer (april-september): 9:00 - 18:00. winter (october-march): 9:00 - 16:30.  Closed on Wednesdays.
Mihrimah Sultan mosque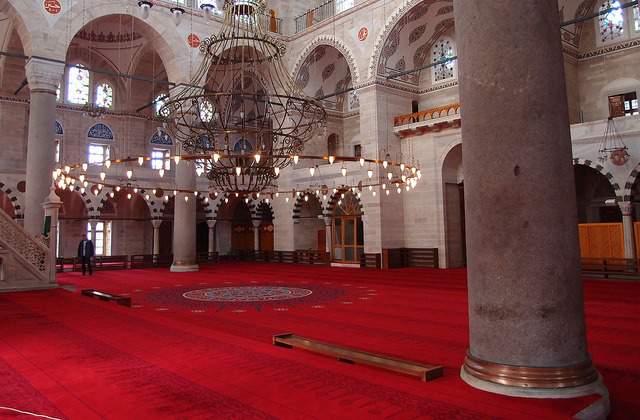 Inside Mihrimah Mosque. Photo by Gullhem Vellut.
See Mihrimah Sultan Mosque.  The mosque was dedicated to princess Mihrimah, the favourite daughter of Ottoman Sultan Suleyman the Magnificent.  It took famous Turkish architect Mimar Sinan 3 years to complete the construction in 1565.  He chose the peak of the Sixth Hill of Istanbul for Mihrimah Sultan Mosque.  Unfortunately the mosque suffered 6 major earthquakes and was rebuilt poorly after them.  Take a close look at a marvellous oriental rug on the floor inside the mosque.  
Location: Karagumruk area, Fatih, Istanbul Price: free of charge  Hours: open every day
---
TIPS
If you are lost - walk downhill.  It will bring you to the Golden Horn.  Catch a taxi, a bus or walk from here to your destination.

Some roads are very steep and narrow.  Wear comfortable shoes.  The area might not be suitable for baby strollers because of its hilly nature.



---