[Home]
› [Accommodation]
accommodation in istanbul

find best Lodging by category
Accommodation in Istanbul has both high-end and budget friendly offers. See what options suit your mood and go ahead and book your stay.   
Airport         Apartments         Cheap         Discount         Hostels
Select from former palaces which now serve as hotels.  Consider a world chain name that you are used to.  Or drop your bags at a hostel.  

Everywhere you go for sleep in Istanbul, you will get a great service.
Enjoy the friendly hosts, heartwarming breakfasts and explore Istanbul, the city of 7 hills.
Tip. Take a look at a map provided under each lodging section.
Zoom in as needed and see how far your selected Istanbul accommodation is to attractions. Note that places marked with a little house are Istanbul's two very popular attractions - the Blue Mosque and the Hagia Sophia.  These are marked for your convenience to identify the distance between them and your preferred hotel.
1. Former palaces, mansions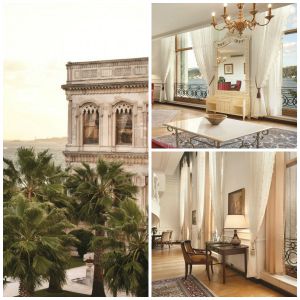 Experience the royal life of Ottomans.  What was a Palace in 19th century or even earlier is now turned into a luxury hotel.  New owners of the historical site do their best to preserve the look and feel of the old times.  Be part of the grandiose architecture and exclusive design.  Get pampered by outstanding service.  Eat privileged food.   
Tashkonak Studio Suites are studios in a former Ottoman mansion.  Location: Kucuk Ayasofya Avenue, Kapiagasi Street No:7 Sultanahmet, Fatih, Istanbul Price: low.  Book Tashkonak Studio Suites                           
2. International chains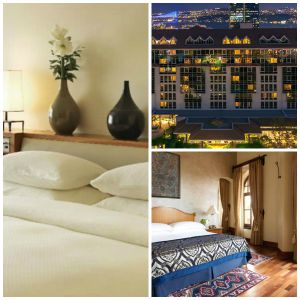 World known chain hotels are a great choice if you have a brand in mind.  Know for sure what to expect from your favourite hotel chain with a zest of Istanbul.  Taste modified to Turkish style breakfast.  Rest on a cushion with oriental ornament.  International chain hotels are a popular type of accommodation in Istanbul.   
Four Seasons
Hilton
Grand Hayatt
Swissotel
Best Western
Same chain may have several venues in Istanbul.  Here are some of the names and locations:
Tips on touristic districts of istanbul 
Accommodation in Istanbul is available in every corner of the city.  The major touristic areas with attractions are Sultanahmet, Eminonu and Fatih.  Taksim in Beyoglu district and Sisli are second top locations for city guests who want to tour Istanbul.  
Choose Beyoglu, Taksim area to get advantage of nightlife.
Stay in Sultanahmet if this is your first trip to Istanbul and you are only interested in major attractions.
Consider Bahcelievler district near Ataturk International Airport and Pendik near Sabiha Gokcen International Airport if you prefer to stay close to an airport.  For airport hotels click here.
Baby strollers and wheelchairs are more comfortable to use in Sultanahmet, Eminonu and Fatih areas as opposed to hilly Taksim.
Go to Asian side (Kadikoy neighborhood, for example) if you are a returning guest of Istanbul. 
Stay in a hotel along the Bosphorus Strait for a great view and superb environment.  Hotels around Pierre Loti hill also have affordable sleep options with a view of the Golden Horn.
Tip.  Check how close your Istanbul accommodation is to a mosque.  Turkey is a Muslim country.  You will find mosques, prayer homes for Muslim believers, in every neighborhood.  Some find calls to prayer uncomfortable.  The closer your place is to a mosque the more pronounced the call to prayer will be for you.
3. Luxury accommodation in Istanbul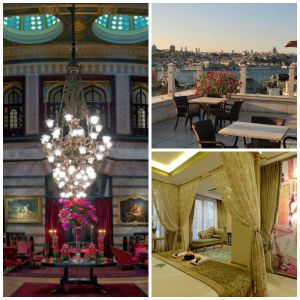 Many hotels in Istanbul offer an excellent service and facilities yet they have no stars.  Never mind the stars. Consider each hotel carefully.  Take advantage of natural hospitality of Turkish people.  Hotels are a convenient option for accommodation - ask any questions you have, share daily adventures you happen to live through, have your tickets organized and simply be surrounded by care.        
4. Boutique hotels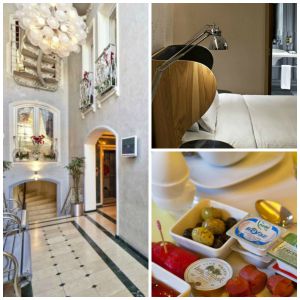 Boutique hotels are top choice for majority of city guests.  Take advantage of the price/quality friendliness of this type of accommodation in Istanbul.  Pick a boutique hotel right at the footstep of major attractions.  Make sure to book early, as these hotels fill up quickly. Live in a cozy, friendly environment.
Check out top recommended boutique hotels:
5. Hostels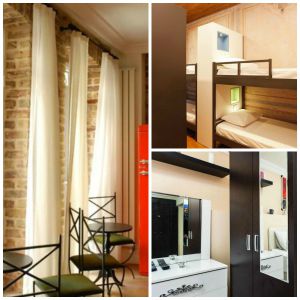 Hostels in Istanbul add in number every day.  Select from about 100 simple sleeping options.  Be prepared to walk a bit to attractions but Istanbul is all about walking anyway.  See for yourself what life in Istanbul is like off the main streets.  Mingle with the locals.  Get the real feel of the mega city.
Check out these hostels suggested by most of the guests.
6. Bed and breakfast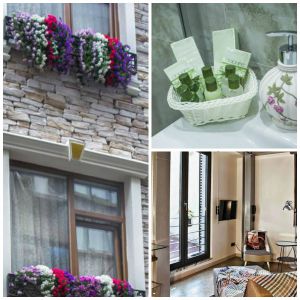 Bed and Breakfast offer a great accommodation in Istanbul.  Owners put their heart and soul into their Bed and Breakfast venues.  Wake up to a morning freshly brewed tea or coffee.  Let the owner cook for your.  Feel at home while on your trip exploring Istanbul.
Consider staying at one of these B&Bs:
7. Apartments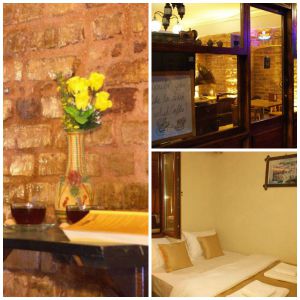 Apartments are very popular among family travelers.  Get independent from receptions and cleaning services. Arrange your own breakfast.  Have your own space separately from other tourists.  Choose location that suits your needs.  The advantage of this type of accommodation in Istanbul is friendlier price and more spacious living. 
Take a look at these apartments in Istanbul: