[Home]

›
[Food]
› [Restaurants]
Istanbul Restaurant
Best places for Food In The City
Istanbul restaurant list is long.  Here are names and addresses of eateries where locals hang out and suggest you come too!  Check out restaurants with 360 view in Istanbul for a breathtaking experience.
In and around touristic areas
(Sultanahmet, Eminonu, Karakoy, Taksim)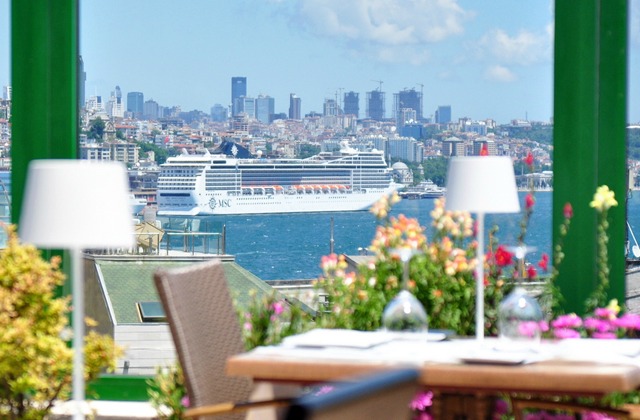 Terrace view from Imbat Restaurant.
Mitte
Mitte is a trendy choice for lunch and dinner in Istanbul's Karakoy district (reservation on the weekends preferred).  Mitte is a walking distance from Karakoy tram stop.  This is a great Istanbul restaurant choice after touring attractions of the city.  Try cocktails, homemade desserts, soup of the day, pot pies and meat specialties.  Consider vegan dishes and sandwiches for a quick bite. 
Price: middle
Location: Necatibey Caddesi No.66A, Karakoy.  +9 0532 540 65 69
Hours: 12:00 noon - 3:00 am (night)
Buhara Kebab House
Buhara Kebab House is a popular Istanbul restaurant for lunch and dinner.  Eat well prepared Turkish cuisine and enjoy a pleasant atmosphere.  Helpful multilingual staff will help you select from a long list of kebabs.  Many love Ali Nazik kebab served with mashed eggplant and chicken Shish kebab.  Enjoy Turkish halva dessert and Turkish tea after your meal.
Price: middle
Location:  Alemdar neighborhood, Nuruosmaniye Avenue No: 5, Fatih.  +9 0212 513 7799
Hours:  12:00 noon - 11:30 pm
Imbat Restaurant
Imbat Restaurant serves tasty Turkish cuisine from Aegean and Mediterranean region.  Go up to the terrace to enjoy the view.  Go for Artichoke Stuffed With Quince, Potatoes And Carrots for your appetizer. Many love the Veal And Lamb With Herbs Rolled In Chard Leaves.  Top selection for the main course is the Crete Kebab - veal steak with Aegean herbs.   
Price: middle 
Location: Hudavendigar Avenue No:24, Sirkeci
Hours:  12:30 - 23:30
At Mikla's. Photo by Bill Rand
Mikla
Mikla is a famous Istanbul restaurant mentioned even in non Turkish press.  Try Mikla's Roasted Spinach Roots with Fig Dressing, Crispi Anchovies, Pastrami from Kayseri region and special Pumpkin Dessert. Enjoy the rooftop view of Topkapi Palace and Hagia Sophia.  You will be treated to modern presentation of your food.  Satisfaction guaranteed. 
Price: high
Location: The Mamara Pera, 15 Mesrutiyet Avenue, Beyoglu; +90 212 293 5656
Hours: 11:00 - 23:00
Hamdi Restaurant
Hamdi Restaurant has been serving traditional Turkish food since 1970. Conveniently located right by the Spice Market this Istanbul restaurant has been popular among tourists for years.  Stop by for meat or vegetarian dishes, Turkish sweats and tea.
Price: reasonable
Location: Tahmis Avenue, Kalcin Street No:11, Eminonu +90 533 658 8011
Hours: 10:00 - 22:00
Vegetarian Turkish starters. Photo by David Jackmanson.
Pandeli
Pandeli is another perfect Istanbul restaurant for stopping by if you are shopping around the Spice Bazaar and got hungry.  The New York Times and many others recognize Pandeli as a great Turkish eatery. Eat kebabs, mezes (Turkish starters) and vegetables cooked in olive oil. Most Pandeli visitors prefer Lamb Cooked In Tandoori, Eggplant Salad and Mixed Turkish Sweets Platter. 
Price: middle
Location: Spice Bazaar (Misir Carsisi in Turkish) No: 1, Eminonu +90 212 527 3909
Hours: 10:00 - 22:00.  Closed on Sundays.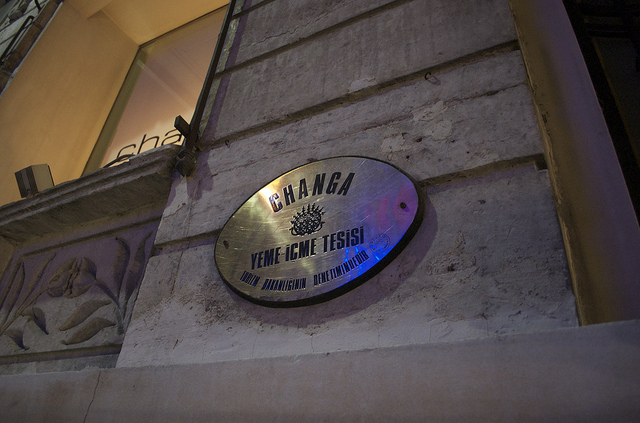 Changa. Photo by Kim Ahlstrom
Changa
Changa is an exquisite dinner location in Cihangir, Taksim area in Istanbul.  Try the traditional Turkish dishes cooked with what is called "fusion technique".  With "no flavor overwhelms the other" approach dishes at Changa acquire unusual, unforgettable taste. 
Muzedechanga is a branch of Changa's located in Sakip Sabanci Museum.
Price: high
Location: Siraselviler Avenue No: 47, Taksim. +90 212 251 70 64
Hours: 18:00 - 23:30.  closed on Sundays and summer time.
Hidden Istanbul restaurant gems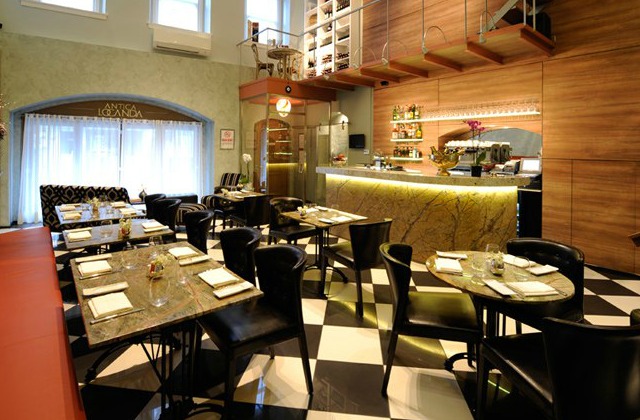 Antica Lokanda
Antica Lokanda is the best Istanbul restaurant for Italian dishes. Get hungry for fish and seafood, spaghetti and lots of Italian herb flavors. Many love the Antica Lokanda's Hummus With Fried Eggplant And Maple Syrup for a starter and Sauteed Veal Tenderloin With Pear Slices, Cream Sauce And Pistacchio.   
Price: high
Location: Satis Meydan Street No: 12, Arnavutkoy neighborhood, Besiktas.  +90 212 988 1546 extension 172
Hours: 12:00 to 14:30, 18:30 to 23:00

Cok Cok
Cok Cok has been voted "The best ethnic restaurant in Turkey".  Come to Cok Cok (pronounced "chok chok" as in "chai") for exceptional Thai food.  This Istanbul restaurant is famous for its Spinach In Oyster Sauce, Duck With Red Curry, Chicken With Fresh Ginger, Beef In Oyster Sauce and more.  You sure will get a "spiced up" evening in Cok Cok.
Price: high
Location: Mesrutiyet Avenue No:51/A, Beyoglu.  +90 212 292 6496
Hours: Tuesday – Sunday: 12:00 noon – 23:45, Monday: 18:00 – 23:45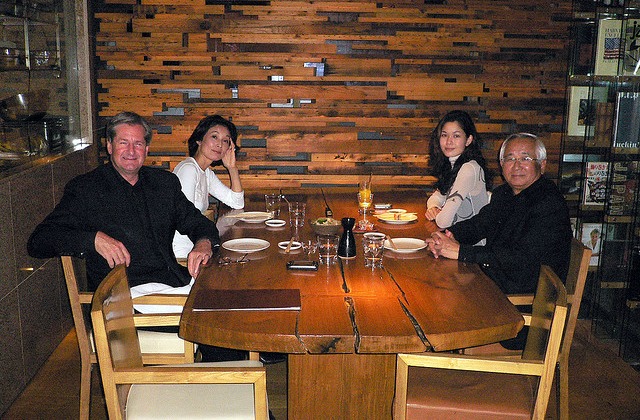 In Zuma restaurant. Photo by Herry Lawford.
Zuma
Zuma is Japanese dining the Zuma style.  Appreciated in London, Hong Kong and Dubai the restaurant offers elegant dining in Istanbul.  Find authentic Japanese dishes cooked in a new unexpected way.  Try Marinated Chicken Roasted On Cedar Wood, Salt Grilled Seabass With Burnt Tomato And Ginger Relish and Green Tea With Banana Cake for dessert.
Price: high
Location: Istinye Park Mall.  Katar Avenue No: 73, Sariyer.  +90 212 236 2296.  
Hours: Lunch: Monday - Friday 12:00 - 15:00, Saturday - Sunday 13:00 - 16:00. Dinner: Monday - Thursday 19.00 - 23:30, Friday -Saturday 19:00 - 00:30, Sunday 19:00 - 22:30. 
Zuma lounge and bar: Monday - Saturday 12:00 - 02:00, Sunday 13:00 - 00:00
Ikonium
Ikonium is a longest Turkish pizza (pide in Turkish) you'll find in the city.  Try Konya style (region in Turkey) pide with meat or vegetables in this cozy restaurant in Levent district of Istanbul.  Come watch soccer (football) matches at the big flat screen TV here.  Eat at the most beloved location of Levent residents.
Price: reasonable
Location: Aytar Avenue, next to Migros food store. +90 212 269 6982 

Hours: 11:30 - 22:30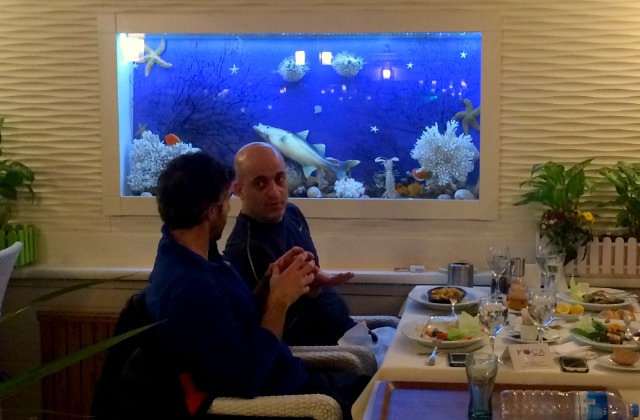 Visitors of Foca Fish Gourmet restaurant
Foca Fish Gourmet
Foca Fish Gourmet restaurant is a popular seafood restaurant on the Asian side of Istanbul. Foca is known for its appetizers (meze in Turkish) and exceptional service.  All fish and seafood served are always of high quality and brought to the restaurant daily.  Play room for children with an adult supervisor (free of charge) is an additional attraction if you are traveling with kids.  
Location: Sahil Yolu Street No: 93, Kucukyali neighborhood, Maltepe, Istanbul.  Take a ferry.
Price: middle 
Hours: 12:00 - 1:00 am
Tahin
Tahin is a cozy Istanbul restaurant which specializes on Lebanese cuisine.  They are famous for falafel (vegetarian deep-fried ball), several types of hummus (chickpeas spread) and Lebanese grill.  Name of the restaurant comes from popular ingredient of Lebanese dishes - tahin (a dip made of fried and ground sesame seeds).  The restaurant has three locations - one by Bogazici University in Rumelihisarustu, another in romantic Moda neighborhood on the Anatolian side of Istanbul, and third - in Karakoy.      
Location: Hisarustu Nispetiye Avenue No: 69/A, Rumelihisarustu.
Caferaga neighborhood. Dr. Esat Isik Avenue No: 20/A Moda (Asian side)
Kemankes neighborood. Necati bey Avenue No: 104 Karakoy
Price:  reasonable
Hours: 10:00 - 22:00