[Home]

›
[Attractions]
› [Theme Park]
IsFanbul Theme Park

things to do, tips & hotel info
IsFanbul Theme Park (formerly known as Vialand) in Istanbul is Turkey's first amusement park in its history.  The complex includes a hotel, a shopping mall, the amusement park with entertaining rides and Adventure Land with fun and games by the lake. 
Choose from 29 rides and attractions.  Find your own entertainment unit - from Breath Taker roller coaster to Merry-go-round carousel.  New Angry Birds ride was added to the collection in 2016. 

The entire territory of 120 thousand square meters (over 1 million square feet) is friendly to disabled and baby strollers.  

Have fun in number one entertainment venue in Istanbul!
(!) A Wildpark (Jungle Istanbul) with reptiles, birds and monkeys is inside the adjacent Isfanbul designer outlet (Vialand mall.)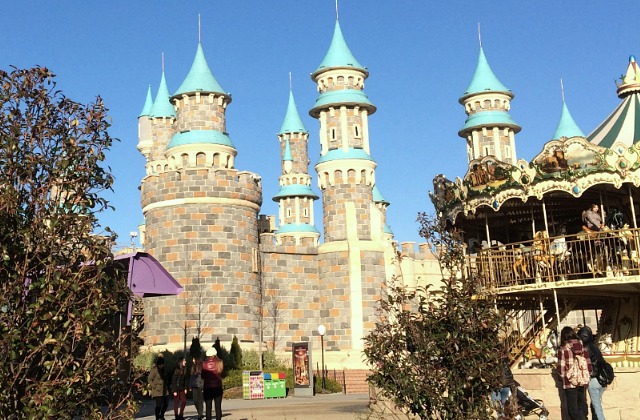 VIALAND towers and carousel
Location:  Yesilpinar neighborhood, Sehit Metin Kaya Street No:11, Eyup, Istanbul 
Take a bus from Eminonu (bus No. 47 or 47E), Taksim (bus No. 49T) or Aksaray (bus No.39).
Prices:  Isfanbul theme park tickets range from 69 to 159 Turkish Liras per person. Free for children 0-2 years of age.
Hours: Theme Park: 10:00 - 20:00. Shopping mall: 11:00 - 23:00 
---
Isfanbul designer outlet
Isfanbul designer outlet mall (former Vialand mall) in Istanbul has about 200 shops. It's conveniently located right by the amusement park and is great for leaving part of an adventurous party behind at the roller coasters and shopping your time away at the mall.  
Besides shopping spree, go ahead and spend time playing bowling, watching a movie, or cut to fit at a professional tailor that new outfit you just bought.  Services available at Vialand mall premises include banks, exchange office, car rent and wash, valet parking. 
The modern mall with open-air streets and diverse eateries is a great place to spend time and fulfill shopping needs.  Brands include Turkish and international names - Zara, Adidas, Mavi Jeans.  Cafes and restaurants include Lavazza and Mado (the best ice-cream of Turkey).
The mall has four floors - 
AVM Kati - the Mall Entrance Floor
Cadde Kati - the Street Floor
Food Court & Cinema
Kapali AVM - Covered Mall Floor
(!) Jungle Istanbul is on the AVM Kati - the Mall Entrance Floor.
Parking at the IsFanbul designer outlet is free and can accommodate up to 8000 cars.
Jungle Istanbul
Jungle Istanbul is a covered park with about 400 species in its rooms.  Unique creatures include birds, fish, creeping and crawling animals, mammals. 
Location:   Isfanbul (former VIALAND) mall in Istanbul, The Mall Entrance Floor.
Yesilpinar neighborhood, Sehit Metin Kaya Street No:11, Eyup, Istanbul.
Price: Adult - 20 Turkish Liras. Children (4-14 years old) - 15 Turkish Liras. Check for promotions and reduced tickets at the entrance. 
Hours:  Weekend: 10:00 - 21:00.  Weekdays: 10:00 - 20:00
Do
Do plan to spend a full day at IsFanbul.  You are most likely to want to even come back the next day.  The place is that much fun!  Time permits, purchase multi-entry cards.  Card prices and promotions  for multi-entry choices vary depending on the time of the year.  Check for special offers before you come.
Do stay at IsFanbul Holiday Home & Suites (former Vialand Palace Hotel.)  The hotel adds to an unforgettable experience of the amusement park and shopping at the mall. Isfanbul Holiday Home  is the only hotel walking distance away from the amusement park and in the heart of a huge shopping mall. Perfect place for celebrating your honeymoon, anniversary, family vacation or simply life!
Do bring your own snacks if you have certain food preferences. A little amount of food and drink is allowed inside.  Cafes and restaurants inside the park have limited choice of child-friendly and healthy menus.
If you prefer a tour and want a personal transport to/from your hotel in Istanbul to the Theme Park check guided tours.
Do bring photo ID for yourself and children.  Children older than 3 years need a ticket.  Those under 3 years are issued a free pass.
Do remember to stamp your hand on your way out if you want to be back the same day.  Vialand shopping  mall has good eating options, for example.  You might decide to have your bite there instead of inside the park, and then go back to having fun. 
Theme park rides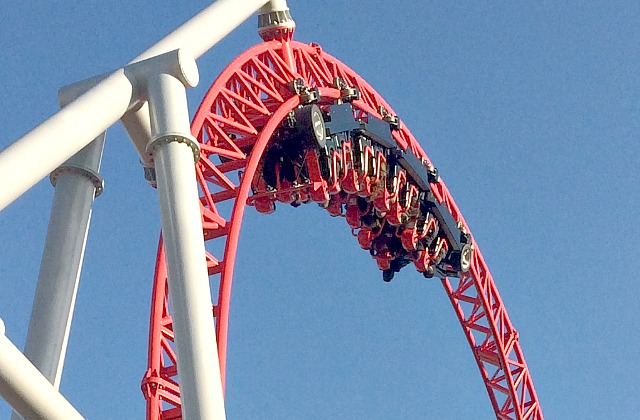 Riding Breath Taker roller coaster
IsFanbul has 29 entertainment units.  Here are featured rides.
Get incredible thrills with :
Breath Taker - reach 110 km (62 miles) speed in 3 seconds!
360 - turn up and down from 28 meters (92 feet) high.
Justice Tower - fall free from 50 meters (164 feet) right down!
Viking  - ride in the water and guess when it decides to splash you!
Get most original experience at :
4D Adventures Of Dora And Diego
4D Angry Birds ride
Fatih's Dream 
Dungeon
Angry Birds
Watch your little ones enjoy the:
Mini Explorers
Flying Kids
Bumper cars
Mini Tower
Pictures of the VIALAND theme park.
(!)  Children must be at least 80 cm (31.5 inches) tall to be allowed to ride an entertainment unit.  Anyone shorter is welcome to enjoy the Cloud Express train which runs through the whole territory of Vialand Theme Park.
Safety do's
Do agree on a safety plan with your group.  Decide where to meet in case you get separated.  Groups of more than 2 people usually have different ride preferences.  Some decide to stay on the same ride, some want to move on.  Also voice out a meeting point after using a bathroom.  Guessing whether your partner is still in the cabin or is already out takes up valuable time.
Do wear ride-friendly clothing.  Pants and comfortable walking shoes will do you good.  Mini skirts, high heals and fish-net stockings are more of a hassle in a theme park than a fashion asset.
Do consider dressing your children, or even your entire group, in the same bright color clothes.  Each of you will be easier to locate in a crowd, especially during high season (May-September).
Do bring sunscreen, hats and umbrellas to protect from sun.  It is an outdoor venue in a sunny Istanbul after all!
IsFanbul Holiday Home & Suites
(a.k.a. Vialand Palace Hotel)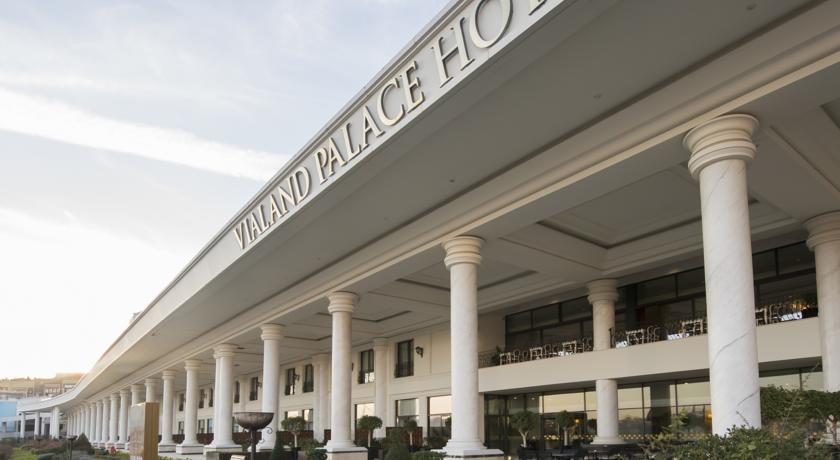 Book Isfanbul Holiday Home                                    From 150 USD
Isfanbul Holiday Home & Suites is conveniently located next to the Theme Park and offers spacious rooms to all tastes.  Choose from family friendly suits with children cots or honeymoon suits with lake view.  Go for Deluxe or King Suites for up to 110 square meters (1184 square feet) of room space.  Enjoy exceptionally modern design, helpful staff and happy atmosphere at Vialand Palace Hotel.   
You will be minutes away from the theme park and the shopping mall.  Hop on a bus to visit other Istanbul attractions like Miniaturk (world's largest miniature park with 122 models of mosques, palaces and many other), Rahmi Koc museum (industrial museum showing history of communications, transport and industry).  
Make use of airport transfer from and to the VIALAND hotel.  Get free parking if you are arriving with a private vehicle.  Relax in a garden and a terrace.  Start your morning with rich breakfast included in the room price.
Adventure Land 
Adventure Land is a newly set up territory of fun and games by the lake located by the VIALAND theme park.
Adventure Land offers:
paintball for young and adults,
waterball,
pony rides,
climbing wall,
rope track,
commando fly, and
all-terrain vehicle safari.
Pay 5 Turkish Liras for entry and choose which games to play.  Prices for the entertainment units vary from 15 to 50 Turkish Liras.  Open every day 10:00 am - 10:00 pm.
Awards
Vialand in Istanbul opened its doors to guests and residents in 2014.  The park has been voted "Turkey's youngest super brand" and "Turkey's most successful outdoor themed amusement park" after opening.
The amusement complex was renamed to Isfanbul in 2018.
Like it? Pin it!