[Home]

›
[Things to do]
› [Taksim]
Taksim Istanbul

About the historic neighborhood & tips
Taksim in Istanbul is associated with "definitely yes, will go" both for tourists and locals.  Taksim is a famous Istanbul neighbourhood with historical monuments, modern shops, restaurants, hotels and nightlife.
One thing uniting this street is the spirit.  The ever-moving spirit of the people who come here.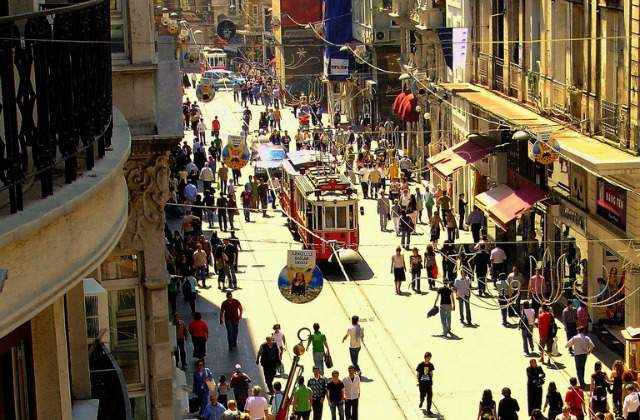 Nostalgic tram on Istiklal Avenue in Taksim
Location: Taksim, Beyoglu, Istanbul.  
(by foot) Walk from Eminonu across the Galata bridge and up the small streets.  Look up to see a tower (this is Galata tower) to make sure you are in the right direction.

(by local transportation from the European side). Take a tram to Kabatas, then a tunnel to Taksim, then (if you wish) a metro to Taksim or Sishane stop.  They are two stops on two ends close to Istiklal Avenue.  

Depending on where you are staying, you can take a metro or a bus directly to Taksim stop.  

(by local transportation from the Asian side). Take a ferry to Kabatas, then a bus to Taksim, or a tunel to Taksim, and then (if you wish) a metro to Taksim.
Price: One-way ride in local transportation costs 3 Turkish Liras.
Hours: Istiklal Avenue and its adjacent streets are up and running 24/7.  Buses: weekdays 5:00 - 22:00.  weekends 5:00 - 20:00.  Metro: 6:00 - 24:00 midnight.  Ferry: 8:00 - 20:00
---
About Taksim
Taksim is located on the European side of Istanbul.   It is part of Beyoglu district.
From Turkish Taksim means "partition", "division".  Main water pipes ran through this territory in the Ottoman times.  The water was collected here and distributed to the rest of the city.
Today Taksim is Istanbul's meeting point for not only leisure but also political expression.  
Protests and celebrations of commemorative dates take place here.
There is a number of international embassies in Taksim surroundings of which become crowded in response to world events. 
---
Istiklal street
Explore Istiklal Avenue, the main street of Taksim area.  This is 1.6 km (1 mile) of contrast.  

Tour modern large chain stores on one hand and small exclusive private shops on the other.  

Dine at high-end restaurants with breathtaking rooftop view or get full in cozy local cafes and patisseries.  

Let loose in one of dozens of pubs and clubs or nourish your cultural side in theater and art galleries.

Watch the nostalgic tram.  This is the oldest tram line after the one in London and New York.   Its wagons come directly from the museum!

Tram line in Istanbul was built in 1869 and was drawn by horses.  In 1966 the Tramway Management of Istanbul decided to completely stop tram usage in Istanbul.  Only in 1990 to restore the spirit of old district of Taksim, Istanbul municipality decided to bring part of the tram line back.  

Take a ride on the nostalgic tram.  It carries 6000 passengers per day between the Tunel and

Taksim Square

.  

Light a candle in Church of St. Anthony of Padua.  This is the largest Roman Catholic Church in Istanbul.
What to do in Taksim, Istanbul
Climb the 

Galata Tower

.  Enjoy the view of Istanbul from the bird's eye.

See Taksim Square.  Scrutinize the Monument of the Republic of Turkey.
Experience the nightlife.  There are options for every wallet.
Eat fish.  Try the best fish market located in Taksim Istanbul. Have your pick cooked for you right where you are.

Drink raki (Turkish alcoholic beverage) in Flower passage (Cicek pasaji in Turkish).

Stay in Taksim Istanbul hotels to be in the heart of modern life, events and authentic neighborhood.  Both first-time and returning visitors prefer Taksim area for accommodation due to a wide variety of options as well as closeness to major attractions. 
Discover the heart of modern Istanbul - Taksim.