[Home]

›
[Food]
› [Turkish breakfast]
turkish breakfast

ingridients, where to eat in istanbul & cost
Traditional Turkish breakfast is followed by a cup of tempting Turkish coffee and is a big part of Turkish culture.  
The word "kahvalti" (Turkish for "breakfast) is derived from "kahve"+ "alti" which means "under coffee" or "before coffee".  
Breakfast is a very important meal of the day in Turkey.  It even has its own festival in Istanbul.  Breakfast festival!  
That's not all!...
Any Turk can excuse himself from work by saying he hadn't had any breakfast yet.  "Ben daha kahvaltimi etmedim" which translates from Turkish to "I haven't had my breakfast yet".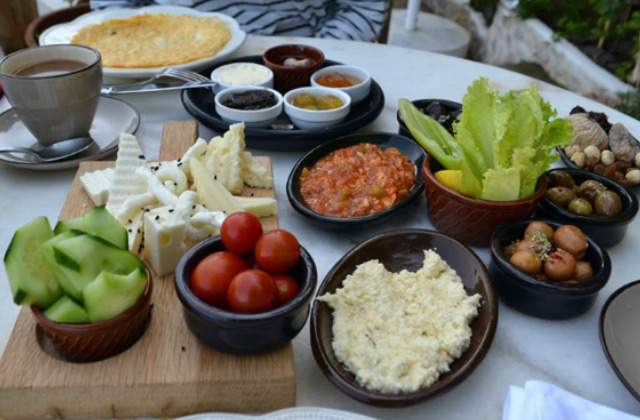 Typical breakfast menu in Turkey.
Discover what's on classic Turkish breakfast plate
and prepare your stomach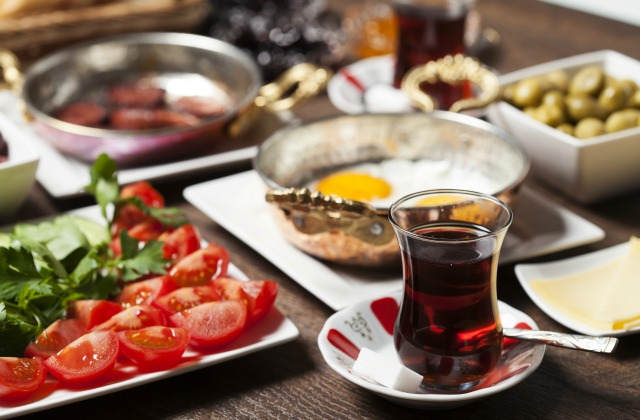 © Natalia Van Doninck | Dreamstime.com
Run into a hungry Turk and ask what he would like to eat.  The answer will most likely be "Bread. Cheese. Olives".  Turkish love their white cheese and a variety of green and black olives.

Here is what traditional Turkish breakfast plate looks like:
bread (usually white bread),
olives (green or black),
cheese (usually white cheese),
butter,
a few pieces of cucumbers and tomatoes,
jam or honey,
This basic set of ingredients is core of traditional Turkish breakfast. Needless to say there are many variations to what you can get on your plate in the morning. The basic, the traditional list of foods is above.    

You can also find on your table first thing in the morning:
Turkish bagel ("

simit

" in Turkish)

salty layered pastry with cheese ("borek" in Turkish)

honey and сream (unprocessed cream collected from whole milk)

tahini (natural paste made of sesame seeds only) and grape molasses ("pekmez" in Turkish)

eggs

Turkish sausage ("suchuk" in Turkish)

pancakes
Breakfast time in Turkey is used for meeting with family and friends, for working on a project with colleagues, for inviting guests into the house. Lots of activity first thing in the morning!  And it's a tradition!  
There is no specific time when Turks have their breakfast.  It all depends on individual schedule.  Generally cafes open their doors at 9:00 in the morning and serve breakfast until as late as 1:00 pm in the afternoon.  If guests come to the house they can be invited for as late as 11:00 am.  
Breakfast can last for as long as one allows himself.  No rush. Savor every bite.
There is no time rule.  The only must do rule is everyone must have his breakfast!  
Find out about the cost of Turkish breakfast in Istanbul 
and manage your budget
Breakfast can cost from 10 Turkish Liras up to 50 Turkish Liras per person. Some restaurants offer unlimited amount of Turkish tea, some charge extra for every glass of tea or coffee as part of a fixed breakfast menu.  
There are places that serve you the basic breakfast plate and offer you to order anything else you would like from the menu. You can also choose what to eat from scratch, no pre-arranged breakfast plates.  
Many choices.  Costs vary.  And everyone must have his breakfast when in Turkey!
Best breakfast places in Istanbul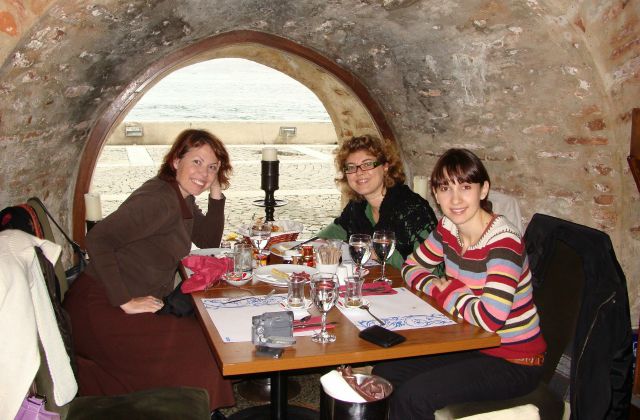 Breakfast at Kiz Kulesi
Cup of coffee and a pastry is not Turkish breakfast.  

There are cafes and restaurants in Istanbul that specialize on serving breakfast.  Most of them are along the Bosphorus Strait.  
Emirgan-Sutis is a chain restaurant that has been serving breakfast since 1953. There are several Sutis restaurants around Istanbul.  For breakfast and the Bosphorus view go to Sakip Sabanci Avenue 1/3, Emirgan neighbourhood, Istanbul.  Doors open at 9:00 in the morning.  Price: 40-50 Turkish Liras.
Kale cafe and bakery has been a popular location for breakfast since 1982. Second floor of a three-story building has a cosy siting area with view and breeze of Bosphorus.  Come to Yahya Kemal Avenue No: 16, Rumelihisar neighbourhood, Istanbul.  Price: 40 Turkish Liras.
Maidens' Tower (Kiz Kulesi) is a romantic place on the Bosphorus Strait to have breakfast.  Plan your morning here every day except Sundays.  Take a boat to the Maidens' Tower from Uskudar on the Asian side of Istanbul or Kabatas (next to Dolmabahce Palace). Price: boat ride: 20 Turkish Liras.  Breakfast: 40 Turkish Liras.
Galata Konak Cafe offers a breathtaking view of Istanbul from their upper floor terrace.  Get your breakfast there at Haci Ali street No: 2, Bereketzade neighbourhood, Istanbul. This is 

Galata tower

 area.  Price: 35 Turkish Liras. 
(!) Taksim area in Istanbul has many places with city's rooftop view.  Most of them serve breakfast.  Many eateries especially advertise that they serve breakfast besides the daytime and evening meals.  
Look for "kahvalti" word on the windows.  It means "breakfast".
Everyone in Istanbul must eat their breakfast!