[Home]

›
[Tours]
› [Tour guide]
istanbul Tour Guide
Stroll the city in your language
Private Istanbul tour guide who speaks your language is a great way to discover Istanbul and get the most out of your trip.
Choose below a guide who fits your needs and enjoy the city of 7 hills!
Bodour guides in Arabic, English, Spanish and Turkish
Ms. Bodour graduated from Faculty of Architecture, worked as an architect and has been providing private tours in Istanbul since 2008.
Besides guiding guests through Istanbul, Ms. Bodour is an author of brochures on Istanbul. These are 20-page cultural and architectural guides to Istanbul's Topkapi Palace, Blue Mosque, Istanbul Museums of Archaeology, Hagia Sophia, Dolmabahce Palace, Grand Bazaar.

Ms. Bodour boasts guiding VIP visitors among which are high officials from Saudi Arabia, Europe, USA, Russia, East Asia and the Middle East. 
Ms. Bodour works with great enthusiasm and shares her deep knowledge of her beloved city of Istanbul. Ms. Bodour's passion is shopping. She provides personal shopper services in Istanbul ensuring hassle-free purchases and fair prices (remember Istanbul bazaars are all about bargaining your price!)
"I share shopping with my guests, go to beautiful restaurants and eat delicious food, smoke Shisha, attend cultural and social events and nightlife. It is extremely important to me that my guests return home with experiences to remember." 
Ms. Bodour is fluent in Arabic, English, Spanish and Turkish.
Gulshat tours in English, Hebrew and Russian.
Ms. Gulshat has been providing tours in Istanbul for three years. Before moving to Turkey, Gulshat lived in the USA, Israel, Spain, Russia and traveled to Nepal, Ukraine and Saudi Arabia.
Ms. Gulshat enjoys taking her groups to places usually overlooked by tourists. Such sites of interest include the first mosque of Hurrem Sultan in Yusufpasa, Mihrimah Sultan Hammam (the Turkish bath), a mosque in Edirnekapi as well as nice galleries around Istanbul. 
Ms. Glushat is a food lover and takes her visitors on food tours making sure the experience is unique and different from the usual routes. Most eating locations have a nice Istanbul view and excellent kitchen.
"Of course I know Istanbul's popular destinations and their history, as well as some commonly unknown facts behind them. I am deeply interested in the Ottoman culture and studied it extensively during my university years. I believe and I was told many times that my sense of humor causes stomach pain."
Ms. Gulshat's provides workshops in oil painting and mosaic.

Ask Ms. Gulshat where to buy petit size clothes in Istanbul! This Istanbul tour guide is also a fashion lover and designer. She is excellent in locating shops with good quality clothes in extra small sizes.

Ms. Gulshat provides tours in English, Hebrew and Russian.
Mahmut tours in English, Portuguese, Spanish and Turkish.
Mr. Mahmut is native to Istanbul and lived in London, Guatemala and went backpacking in south, central and north America. Mr. Mahmut worked as a newspaper editor in Turkey.
Experience a traditional day of a Turkish resident and shop at Istanbul's downtown, have a great Ottoman meal and unlimited Turkish tea. All locations selected for the tour have breathtaking views of Istanbul.
Mr. Mahmut is a licensed Tourist Guide. He can guide you through Istanbul and all the cities in Turkey if you speak Portuguese, Spanish, English or Turkish.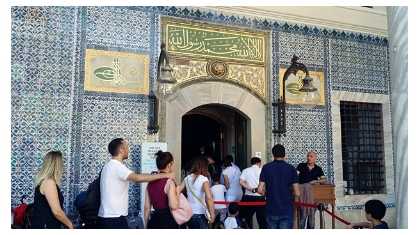 Book your Istanbul tour guide
Send us further info request to our Facebook page.
Please mention:
language you would like your tour in,
number of people in your group (no minimum requirement),
days/hours you prefer to have your tour in the city.
Have fun!
Like it? Pin it!