[Home]

›
[Things to do]
› [Princes' Islands]
---
[Home]

›
[Attractions]
› [Princes' Islands]
Princes' Islands in istanbul

History, What to do, Touristic Buyukada & Tips
Princes' Islands in Istanbul are a range of 9 islands in the Sea of Marmara. This is a hidden treasure of Istanbul.  Explore this secret escape from busy Istanbul life where numerous monasteries and churches were once built.
Royal trouble-making children and adults were sent to these islands for isolation. The tradition started in Roman Empire and survived till Byzantine times.  This is how the islands got their name - the Princes' Islands.  
Locals call the islands - Adalar.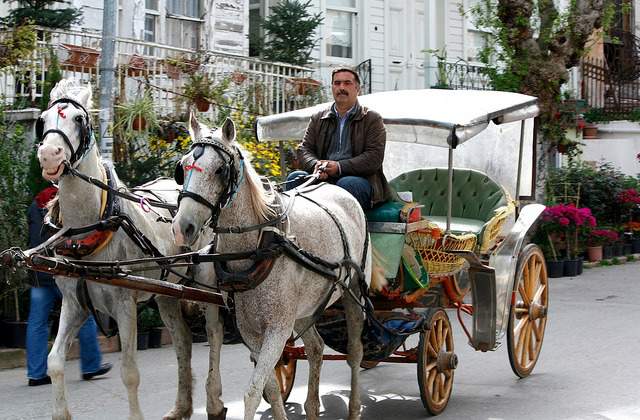 Horse-drawn buggy
---
Location: Istanbul.  Islands in the Sea of Marmara.  Take a sea bus, a ferry, sea motorcycle or a sea taxi to Buyukada (Adalar).  Find them at Eminonu, Kabatas, Sirkeci (European side) or Bostanci, Kadikoy, Kartal, Maltepe, Tuzla (Asian side).
Price: Sea bus (travel time about 1 hour) - 9 Turkish Liras.  Ferry (travel time at least 1.5 hours) - 5 Turkish Liras.
Ferry timetable: Select your departure point (Kabatas, for example) in "Domestic Trips" section.  Then "Buyukada" or "Heybeliada" in the arrival window.
History & architecture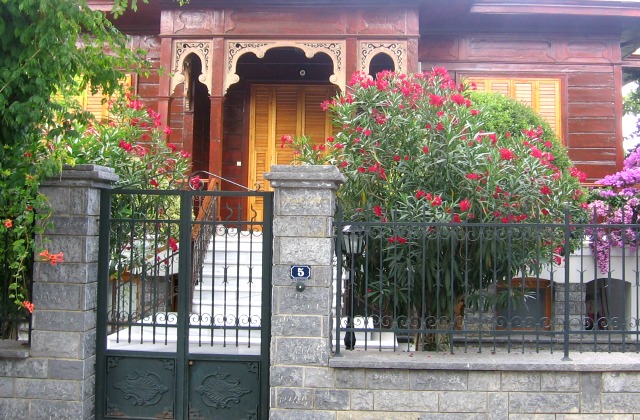 Life on the islands consisted of many fisher villages along the shores.  Deeper into the islands rulers built monasteries as a punishment and isolation institute for the unfavorable.  When Ottomans came into power, monasteries served as regular homes. 
In 1846 islands gained popularity as ferries from Istanbul started to give regular service to the islands.  Summer months were the most popular.  From this year onward many wealthy locals started building mansions and residencies for their own use.    
As a popular summer place, constructions resemble summer houses with a balcony or an open terrace.  The balcony was as a must-have attribute.  You can see that many houses have mixed types of architecture.  Some of the buildings have been destroyed over time.  Their history and architecture are well depicted in Adalar Museum located on the Big Island (Buyukada).
Life on the Islands
Occupations of the islanders include fishermen, gardeners, carpenters, restaurant and shop owners, flower sellers. 

Summer time and the weekends are the busiest times on the Princes' Islands.  Population during the summer goes up 10 times due to flow of summer-house owners and tourists.
Princes' Islands of Istanbul consist of a total of 9 islands.
Buyukada (Prinkipo in Greek)
Heybeliada (Halki)
Burgazada (Antigoni)
Kinaliada (Porti)
Yassiada (Plati)
Tavsanadasi (Miandros)
Kasikadasi (Pita)
Sedef Adasi (Terevintos)
Sivriada (Oxis)
Explore the 4 larger ones.  A ferry from Istanbul will take you by the
"Saddlebag Island" (Heybeliada in Turkish),
"Fortress Island" (Burgazada in Turkish), and
"Henna Island" (Kinaliada in Turkish) on the way to the largest and most popular island
the "Big Island" (Buyukada in Turkish).
For pictures of the islands see official website of Adalar Municipality.  Click on the name of the island and enjoy the views!
Buyukada Island
Buyukada Island (the Big Island from Turkish) is the most famous among locals and tourists.
First settlers of Buyukada are believed to be where now Adalar Museum is - on the St. Nicholas Hangar Museum site.
In 1870s wealthy Turkish residents chose to build their beautiful houses on the Big Island.  Well-known Turks, Greeks, Jews and Armenians started to live here.  Wonder around the small and large mansions. They give a special feel and look to the territory. 
Lefter Kucukandonyadis (1924 - 2012) is among famous people from the Buyukada.  He was a Turkish football player (Fenerbahce team) of Greek decent.  Lefter is known as a first Turkish footballer to appear in teams outside of Turkey. 

The Big Island's taxi is a horse-ridden carriage (phaeton).  The roads are empty and serve as a perfect place for walking.  The area is very green and peaceful.  Only municipal vehicles are allowed on the roads of the island.  Enjoy to the fullest the fresh air and traffic-free streets.
Buyukada attractions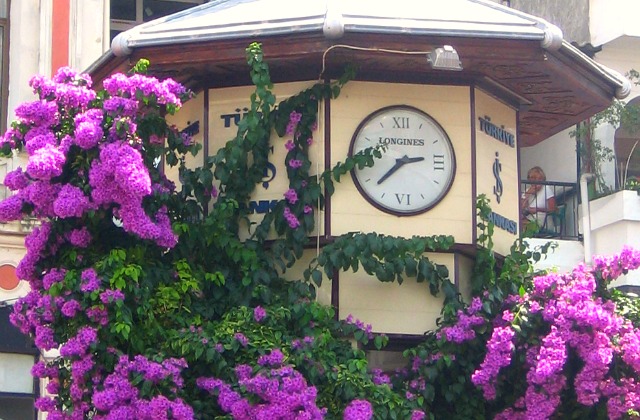 Despite the "Big" name, the Big Island - Buyukada - is small enough for an adventurous and devoted to see it all in one full day.  Make use of the horse-drawn carriage, a bike and your pair of feet to explore the island to the fullest. 
The Big Island has two peaks - Jesus Hill (Isa Tepesi in Turkish) and Supreme Hill (Yucetepe in Turkish).  Both peaks have monasteries.  Third monastery is on the east coast of the Buyukada, close to the Supreme Hill.
Luna Park Square is the main social area in the middle of Buyukada with bike rents, carriages and shops.  Easily reach monasteries from the Luna Park by renting a horse-drawn carriage. 
Clock Square is an area with a large clock tower right by the shore of the island.  This clock will probably be the first thing you see as you approach the Buyukada.
Fayton Square is another meeting point in Buyukada with churches and  local shops.
Monastery of St. George Koudonas
Monastery of St. George is also known as Aya Yorgi Kilisesi (Turkish) is a Greek Orthodox Cathedral located on top of the Yucetepe peak.
The church and monastery is believed to be founded in 963.  One of the legends says that a shepherd heard a sound of ringing bells from the ground.  He dag into where the sounds came from and found an icon of St. George.  Koudonas from Greek translates as "ringing bells".  Visit the church for more legends and miracle stories. 
Be prepared to climb uphill for about 1 km.  The hike is pretty and has places for a rest.  Your efforts will be rewarded by a beautiful Christian construction of 6th century.  Istanbul view from this church and monastery is impressive.  You will see the island's forest, the sea and other near-by Princes' Islands of Istanbul.
(!) Replenish your energy for your return trip at Yucetepe Kir Gazinosu restaurant near the church.   Open from 10:00 am till 24:00 midnight.  Prices are average.  Menu includes Turkish cuisine, cold and alcoholic beverages.
Monastery of the Transfiguration
Monastery of the Transfiguration, known as Hagios Sotiros Christou in Greek, is located on the Jesus hill (Isa Tepesi) in Buyukada.  Byzantine Emperor Manuel I Comnenus mentions the monastery in 1158.  
The building today is preserved only partially.  However you can see carved wooden iconostasis, for example.  The entrance doors referred to as "Beautiful Gates" (Oraia Pylai in Greek) have eight icons in their panels, some dating back to 18th century.    
Greek orphanage
In 1903 an orphanage was opened close to the Monastery of Transfiguration on the Isa Tepesi in Buyukada.  Today the construction is abandoned but still serves as a landmark of Buyukada due to its size.
The largest wooden construction of Europe was originally built in 1898 to become a hotel with a casino on the premises.  Ottoman Sultan Abdul Hamid II overruled the project which contradicted Muslim culture.  Later, a Greek woman Eleni Zarifi, a widow of a banker, purchased the building for public needs and made it a Greek orphanage.  Sultan Abdul Hamid II donated 146 pieces of gold to the establishment which served till 1964.  
Hesed Le Avraam Synagogue
Hesed Le Avraam Synagoge on Buyukada of Princes' Islands in Istanbul was built in 1903.  It is located in Yali neighborhood, one block away from Zagnos Pasa Avenue.  Today the synagogue is open for ceremonies only during summer months.  Call +90 212 243 51 66 to make an appointment if you want to visit the synagogue.
Adalar Museum
Adalar Museum is the museum of history and geology of Princes' Islands in Istanbul located in Buyukada (The Big Island).  The museum was founded in 2010 in an old school building and a nearby unused helicopter hangar.  These areas gave the establishment two separate locations for exhibitions - Cinar Museum Grounds and St. Nicholas Hangar Museum site.  Dive into stories of the islands through objects, pictures, movies and archival records.  
Sections at Adalar Museum include information about natural history of the islands and first human traces, architecture and literature, traditions and rituals.
Location: Hangar Muze alani, Aya Nikola Mevkii, Buyukada, Istanbul 
Price: 5 Turkish Liras.
Museum is closed on Mondays.  
Roman Catholic Church of San Pacifico
The Roman Catholic Church of San Pacifico was built in 1866.  Recognize the building by its neo-Gothic architectural style and a wooden roof. Location: intersections of Lala Hatun and Yeni Sokak streets. 
Metropolitan Church of St. Dimitros
The Metropolitan Church of St. Dimitros (Hagios Dimitrios in Greek) was built in 1860 by architect Fistikos Kalfa.  This is a large, well preserved and an impressive church in Buyukada with an altar and two chapals. Location: Corner of Zanos Pasa Avenue and Alacam street.
Church of the Panagia
In 1793 the Church of the Panagia was built at the corner of Fayton Square in Buyukada of Princes' Islands of Istanbul.  This was a rebuild of the original church from the year 1735 which stood on the Isa Tepesi near the Greek cemetery.
Most Recommended Buyukada Hotels
Yeni Kosk Orman Hotel - The hotel is on a hilly part of the Buyukada island, gives a perfect feeling of isolation and total peace. Enjoy a deep pool (watch out for the kids!), modest but very tasty breakfast and a breathtaking view around. Owner speaks English. 
Serguzest Hotel - A cozy family-owned hotel has a personal touch in everything. Feel at home in small exceptionally clean rooms. Enjoy the full Turkish breakfast for a great morning start at a patio with flowers. 
Buyukada Anastasia Meziki Hotel - This is a historical building with lots of artifacts and stories behind (ask owners!). Enjoy your stay in this mansion and rent a bike to go explore the Buyukada island. 
Cenar Konak Butik Hotel - Stay in a cozy wooden hotel with relaxing surroundings and a tasty breakfast. It's conveniently located near the Ferry Port. You will have access to buggies, bikes, tours, restaurants and night life of the island.  
What to do on the Princes' Islands
Plan to spend a whole day on the islands whether you are visiting just one or all 4 bigger ones.  The ride to the islands and back is time-consuming. Fitting attractions on the mainland in Istanbul in the same day is rather adventurous. 

The territory of the "Big Island" (Buyukada) is 5.46 km2 (2.11 square miles). 

Explore the picturesque hills and historical roads by foot.  Use so-called Lovers Path (Asiklar Mesiresi in Turkish) on Buyukada island for the best walking route. 
Rent a bike (for about 20 Turkish Liras) or ride a donkey. 
Catch a phaeton - the horse-ridden carriage.  The phaetons have two types of tours - the small one (for about 50 Turkish Liras) and the big one (for about 70 Turkish Liras).  The small tour feels really short (about 20 minutes). The tour ends just when you get the taste of the island.  You can cut the price in half if you find someone to share the carriage with. 
Miss the last ferry back to Istanbul.  Spend a night in a hotel on the island.  Choose from dozens of sleeping places.  Test your luck by walking in if you are traveling in the summer. Make a reservation to make sure you get a room.   It gets crowded in the summertime here.

Princes' Islands and cruise on Bosphorus Strait
Both cruising the Bosphorus and visiting the Princes' Islands may be a very tiresome one-day adventure.  Two-in-one usually does not work for these trips.  However, if you are short in time and insist on doing both attractions in one day, go for the Bosphorus tour first and then continue to the Princes' Islands of Istanbul. 
Have fun and enjoy!
Like this? Pin it!