[Home]
› [Food]
Food in Istanbul

5 types, average cost & 5 main safety tips
Food in Istanbul is full of tradition and makes you crave for what you tried over and over.  Beef, lamb and chicken meats accompanied with rice, beans and other greens are staple foods in Turkey. Average cost for a meal ranges from 20 to 50 Turkish Liras.   
As a city with many different nationalities, the range of cuisine types and restaurants in the largest city of Turkey is wide.  Find all kinds of world food in Istanbul - from Japanese sushi to Italian pizza.  
However, we are to talk about traditional delicious irresistible Turkish food you'll eat in Istanbul.  
Taste from meat dishes to vegetarian soups.  Eat high-calorie nutty baklava or almost dietary and mysterious Turkish milk desserts tavukgogusu and kazandibi.  Treat yourself to Turkish signature ice cream - Marash (Maras dondurmasi in Turkish).  
Restaurants          Breakfast          Desserts          Tea          Coffee

Street food        Meat and fish        Vegetarian        Sweets        Drinks  
"Good painting is like good cooking: it can be tasted but not explained."
See for yourself what Turkish breakfast, Turkish tea and coffee are. These traditions have to be tasted. Salty olives for breakfast, strong brewed tea and a two-sip cup of Turkish coffee will sure be awakening morning food discoveries in Istanbul.

Notice many Turkish dishes have a name of a region or a person in them.  Adana kebabi, for example, comes from Adana region in southern Turkey.  Iskender kebabi is a minced meat cooked by a recipe of Iskender Efendi who lived in Bursa in late 1800s.  Other popular Turkish dishes with region names in them are Konya pidesi, Sariyer boregi,  Antep usulu zeytinyagli dolma. 
It is a tradition in Turkey to name food after the person or a place the recipe came from. Most dishes coming from Antep region in the western part of Turkey will be spicy and will probably have pistachios in them.  Antep was the region to have the first nut plant in Turkey, so pistachios are called Antep fistigi in Turkish. 
Istanbul is the best place to find various traditional Turkish food solutions. Afiyet Olsun! Bon Appetit! 
Street food in Istanbul
Best street food in Istanbul lets you make rather healthy choices even when you are on the run. 
Prices start from as little as 1.5 Turkish Liras per a pastry.
Scroll down for a list of Turkish street food we prepared for you and stay full when discovering endless Istanbul attractions. 
bagel
Simit by Patxi Izkue
Simit is a Turkish bagel with sesame seeds.  It is usually sold on the streets, almost on every corner.  Grab your Turkish bagel whenever you feel hungry.  It is the safest food in Istanbul.  Cafes, restaurants and bakeries serve simit as well.  Usually the bagel is made of white flour.  Be prepared to find wholegrain, wholewheat, with sunflower seeds simit instead of sesame.  Try popular simit sandwiches with cheese and tomatoes.  See if you like simit toast with just the cheese warmed up.  Simit is number one street food and bread for Turkish breakfast in Istanbul!
On average one simit costs 1.50 Turkish Liras.
Borek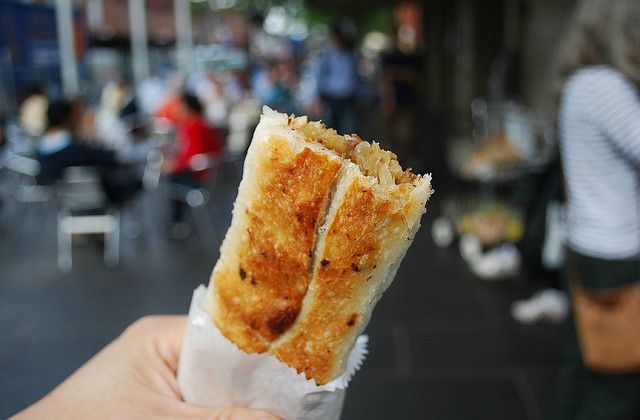 Spicey borek by Alpha
Borek is a salty pastry made of layered dough and baked with either cheese, potatoes, spinach, meat or just oil.  Borek is rarely sold on the streets.  However, the shops that sell this popular Turkish pastry in Istanbul are great in number.  So borek does deserve the street food category.  Buy your borek by portions or by weight.  Just say "one portion" (bir porsiyon) and you'll get a piece of your borek.
Average cost of one portion of borek with cheese is 5 Turkish Liras.
Doner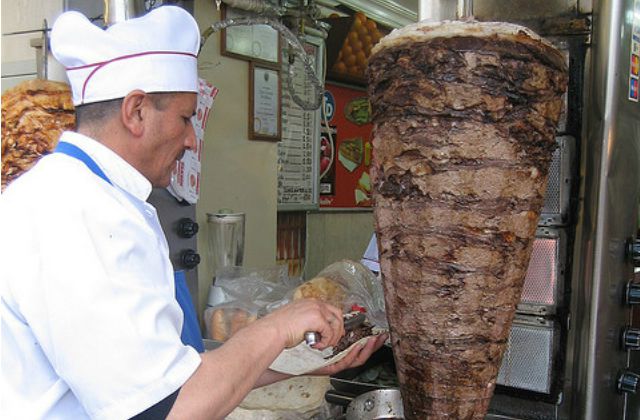 Doner by ccarlstead
Doner is known worldwide, yet the one made in Istanbul tastes a little better.  Doner comes from Turkish word "donmek" which means "to turn".  Layers of meat fillet (beef or chicken) with animal fat are put on a large vertical stick which turns around fire.  After several hours of cooking the doner is ready for serving.  You will get thinly sliced meat sometimes with some greens on a bread.
Doner is part of many popular Turkish dishes.  Iskender kebap, for example, serves doner with tomato sause and butter on top.
(!) Because this is a meat dish pay attention to the price.  Some doners are sold for as little as 5-6 Turkish Liras.  Avoid cheap meat.  Its quality might be questionable.  
Good quality beef doner costs 10 Turkish Liras and up.   
Chestnuts and corn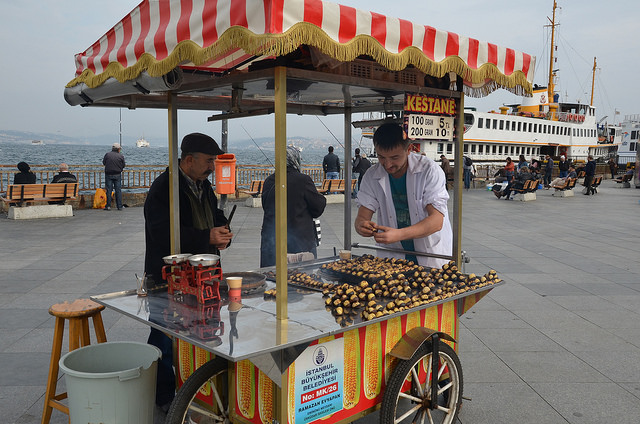 Selling chestnuts by shankar s.
Crisp kebaps.  Gnaw on chestnuts (kestane in Turkish) and yellow corn (misir in Turkish).  You will see portable street grills which roast chestnuts.  Grab your bag of chestnuts and continue exploring Istanbul's attractions.  Separate grills roast yellow corn.  You can have your corn boiled as well if you like.  These grab-and-go solutions are best to gain some energy when you have so much to see and do in the city.  
Prices of fried chestnuts is about 10 Turkish Liras for 200 grams (about 12 pieces).
One boiled or grilled corn costs 2 Turkish Liras.
Rice and chickpeas
Rice and chickpeas.  Combination of rice, chickpeas and chicken sounds like a full meal for a sit down lunch.  It is a street food in Istanbul!  Find portable stands which sell the rice and chickpeas, decide if you want chicken pieces with it and voila!  You got yourself Turkish dish on the go. 
Average price - 5 Turkish Liras.
Kokorec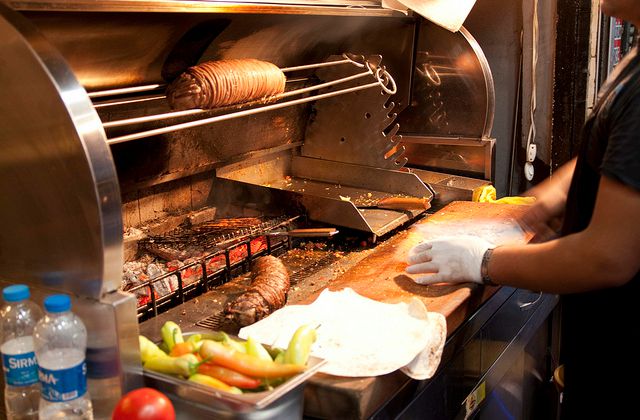 Kokorec by Dieter Titz
Kokorec is a delicacy of Greek origin.  Kokorec means "corncob".  It looks like corncob but has no corn in it.  The dish is made of intestines.  Fat, organ meats and spices are used for stuffing.  They are fried on a horizontal turning skewer and served hot inside of a piece of white bread or lavash, thin flatbrad).  Not exactly a healthy deal.  Many do love the taste.
Average price for a full bread with kokorec filling is 10 Turkish Liras.
Meat and fish
Try Turkish meat dishes which come in many varieties.  Select from lamb, beef or chicken.  Pork is not used in Turkey however you can find pork products in gourmet shops in Istanbul (sarkuteri in Turkish). 

Kebab
Turkish kebap by Martin
Kebap.  Kebap (or kebab) is number one on the list of meat foods in Istanbul.  Kebap can be made of meat pieces or minced, with vegetables or cooked grain (pilaf in Turkish).  Try several kebap types to pick your favorite.  Istanbul's favorite is Adana kebap and kebap with eggplant.  
Prices start at 50 Turkish Liras.
Turkish meat bread - pide /pi:de/
Turkish pide by William Neuheisel
Lahmacun.  Pide.  Pizza in Istanbul does hold a special place in the local cuisine variety, however go with Turkish lahmacun and pide.  Both are known as Turkish pizza but "Turkish meat bread" would be a better description for lahmacun and pide. They are not exactly a meat food but they do have meat in them.  It's a yeasted flatbread baked with tomato sauce and minced/pieces of beef or Turkish sausage (sucuk in Turkish) on top.  You can also have your pide with just cheese.  Istanbul's favorite are Konya and Black Sea pide (Konya and Karadeniz Pidesi in Turkish). 
Average price - 10 Turkish Liras.
Fish
Grilled fish by Jirka Matousek
Fish. Istanbulites are big on fish.  Eat deep fried anchovy or grilled sea bass.  Get messy.  Savor every bite.  You will get onions, lemon and some greens with your fish.  Many drink raki (the alcoholic beverage) with their fish. 
You can buy fish in Istanbul all year round.  Yet follow the general rule to avoid fish dishes in the hot summer months - July and August.
(!) Chew on a few pieces of clove or better enjoy halva (tahini candy) served at most restaurants to minimize the fish smell after your meal. 
Average price of a bread with a mackerel fish, for example, is 10 Turkish Liras.  
Grilled bass starts at 20 Turkish Liras. 
Food tips
Look for word "gunluk".  This is a Turkish word for "daily".  Most foods are prepared daily. 
Double check that the waiter noted the right quantity of dishes you have ordered.  Some waiters trick foreigners to bringing more than ordered.
Trust your instinct.  Although food quality in Istanbul is good, if what you got smells or tastes funny refuse the dish.  Give it back whether you bought it in a fancy restaurant or a backstreet of Sultanahmet.  You shouldn't be charged for what you think is bad food in Istanbul but there is no guarantee.  Note that if you don't like the taste of the food because of your taste preferences, the food is not considered spoiled.  Be prepared to pay for it.
Check your bill.  Small street cafes may trick customers by bringing menus with lower prices to order and higher prices at time of payment (if you requested one to match the inconsistencies).  Large restaurants don't do the price trick.
Vegetarian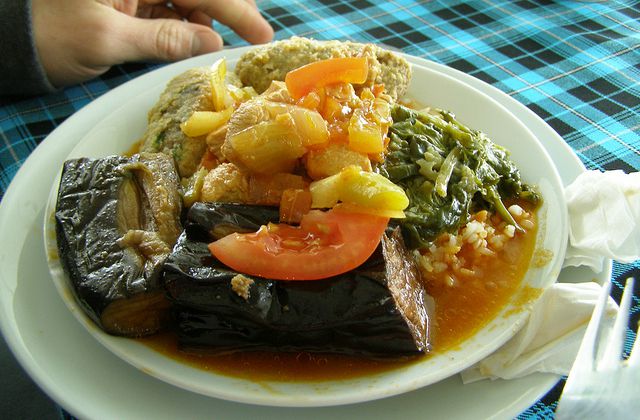 Vegetable varieties by Erich Ferdinand
Be a vegetarian in Turkey.  It's easy!  National cuisine offers many meatless choices.  Besides salads, restaurants have vegetable dishes cooked with olive oil (zeytinyaglilar in Turkish).
Zeytinaglilar is a separate part in restaurants' menus.  They may be served cold.  Ask your waiter for details.  Look for stuffed dried eggplant, for example, or grape leaves.  Vegetarian food in Istanbul is very tasty!  
Spinach and purslane.  These plants are the most popular among greens cooked with olive oil.  You will get some onions and maybe tomato sauce in the dish.   
Soups. Soups in Turkey are usually made of one or two grains plus spices.  The most popular selection of grains are lentils and rice.  Any soup you get will have fried flour in it.  Recipes include flour to give a soup thick consistency.  
(!)  Some soups may be made of chicken broth.  Ask your waiter to make sure your soup has no meat traces. 
Average price of a bowl of soup in Istanbul is 7 Turkish Liras.
Sweets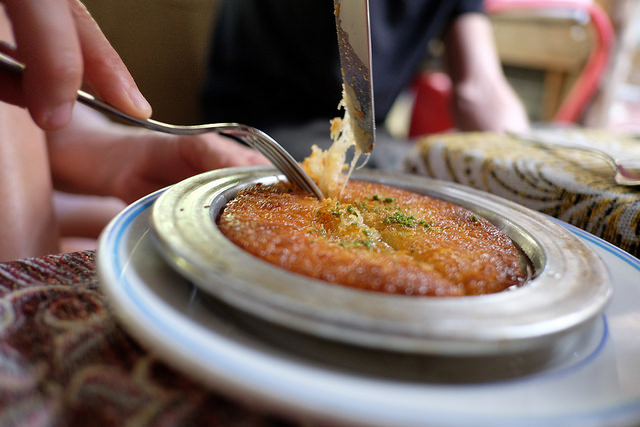 Photo by Tim Lucas
Turkish sweets are a special kind of food in Istanbul.  Note that cakes and pastries are not traditional Turkish sweets.  You will find, of course, cake and cupcake factories, pastry stores and nicely decorated sweet food in Istanbul.  Though, look for traditional Turkish delight, also known as lokum.  Lokum comes with different nuts, raisins, flavors, shapes. Find your lokum everywhere you go in Istanbul.  You can buy lokum even at the airport.
What you can't find on every corner and have to be keen on finding are milk and cheese deserts.  
Kunefe.  Kunefe is a warm cheese pastry made of thin thread-like fried dough.  It is served hot.  Very sweet.  Get your glass of water or tea with it.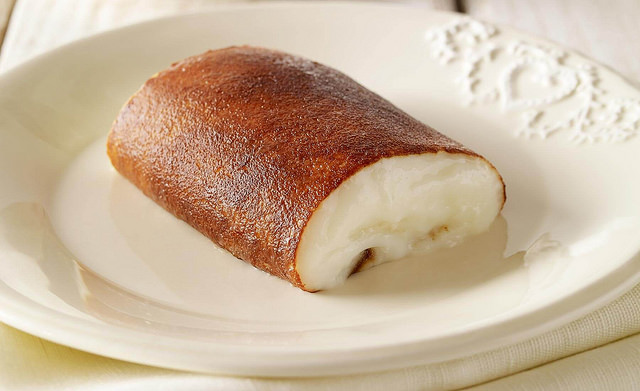 Turkish sweet Kazandibi
Kazandibi.  Kazandibi is translated as "bottom of a pan".  This is a milk desert made with tiny chicken pieces.  Yes, chicken! This milk sweet also has salep ingredient - a plant derived nutritious flour.  After being baked, the desert is rolled into pieces and turned over.  You will get tasty burnt sugar on top of your milky roll.

Quince and pumpkin desserts.  These candied Turkish desserts are a seasonal treat.  If you are in Istanbul in the fall or winter try the sweet quince dessert with cream or get cooked pumpkin with nuts on top.
Find your own favorite and fall in love with sweet food in Istanbul. 
Deserts cost an average of 12 Turkish Liras.
Gluten free food in Istanbul and healthy eats
Eating gluten free food in Istanbul can be easy if you know Turkish dishes well.  As a traveler and a city guest, local cuisine with new ingredients may seem tricky.  
Use this explanation card in Turkish to articulate your gluten free wish.  Print the card.  Hand it to your waiter.  Enjoy your gluten free food in Istanbul.
To meet the special food needs on your trip, see tips on how to eat healthy while traveling. You'll get ideas on what to take before leaving home, what to pack to eat on a plane with lists of perishable and non-perishable foods. 
Quench your thirst with Turkish drinks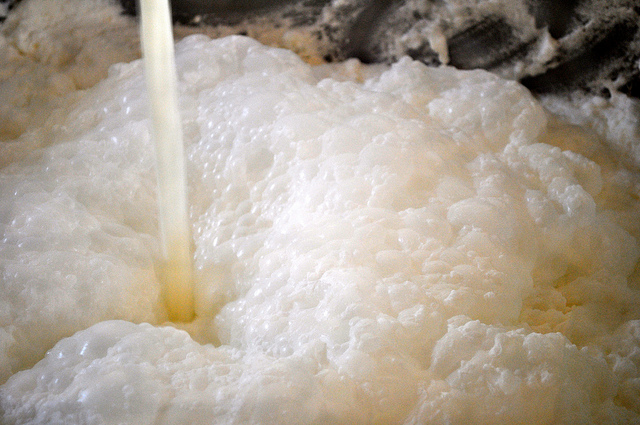 Ayran drink by Sarah Murray
Turks do admit that they drink a lot of Coca Cola.  However Turkey does boast several internationally popular drinks of its own. See our top list of best Turkish drinks below.

Buttermilk
Ayran is a yogurt drink.  It is made of plain yogurt, water and some salt.
Some variations of ayran include grated cucumber and mint leaves.  You can buy your specially made ayran in restaurants.  It will usually have a nice foam and served in a special copper cup. Cost of such ayran can be as much as 10 Turkish Liras per cup.
For a quick drink, buy your ayran in a market (for only 1 Turkish Lira) or from a street vendor.
Just like the Turkish tea, ayran is a Turkish national drink.  It is served with meats, fish, borek and pide, you name it.  Everything but sweets have ayran beside them.  
Do mind expiration date on the box for safety. It's a dairy product after all.

Boza
Boza is not exactly a drink. It is served with tea spoons but you can drink your boza too.  The beverage is made of millet with some flour and sugar.  Enjoy the thick somewhat sweet boza from a special boza shop in Fatih all year round.  You can buy a jar of boza from any store in the fall or winter months. 

Drinks cost about 5 Turkish Lira per glass.
Raki
Raki is an alcoholic beverage with anise flavor and is very popular in Turkey.  Drink it by adding some water to your glass, see how the see-through color changes to snow white and off you go to make a toast!  Raki is even considered a national drink.  Some travelers bring raki back home as a souvenir.  
ointment
Salep is a thick hot drink made of milk and thickening agents to keep you warm in the cold winter months. Cafes and restaurants usually include salep in their menu starting late October. Prices start at 10 Turkish Liras per cup and tastes slightly vary from vendor to vendor. It's a sweet drink served with cinnamon and some add more sugar to get that warm and comforting feeling from drinking Turkish salep. 
The name of this drink comes from an ingredient which is usually only a tiny part of the recipe (2-8%) - salep. Salep is a root of a certain type of an orchard tree turned into flour. Orchards are grown in Turkey and many other sweets have salep in it, the most famous being Turkish ice cream.  
You can buy salep dust at a spice seller ("aktar" in Turkish) and make your own hot salep. Grocery stores sell ready-to-drink salep in a carton box. Simply pre-heat the drink before consumption. Enjoy! 
Salgam
Salgam is a turnip water.  Turnip is a root vegetable usually eaten raw. The drink made out of the turnip is a salty-spicy drink, served cold, usually with meat dishes.  Salgam can also be made of red carrot pickles and sometimes serves as a hangover cure.

Bottom line?
Have your stomach ready for a tasty time with food in Istanbul and enjoy your trip to the fullest.

Like this? Pin it!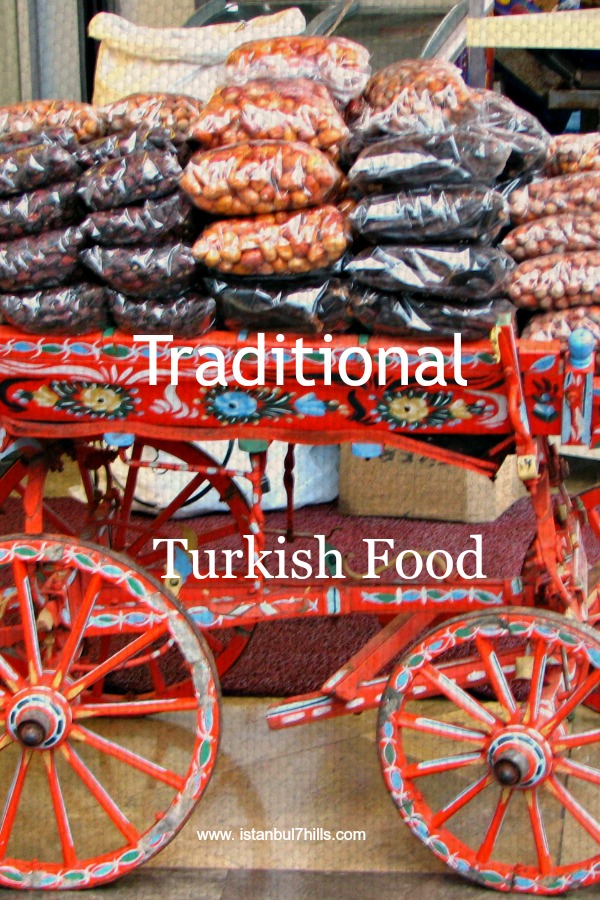 List of must taste Turkish desserts
8 great tasting food tours in Istanbul