[Home]
› [Tours]
istanbul Tour Package

Get to know Istanbul like a local
Istanbul tour packages always include a certified tourist guide.  More often than not your package will include a 4-star accommodation, hotel/airport transfer, meal, show and entrance fees for attractions.  
Select from 200 day tours offered around the city and beyond.  
Decide if you would like a private tour guide or be part of a group.  
Pick half-day tours if you are pressed in time.  
Go for a day-long excursion to learn as much as you can about the city of 7 hills in just one day.  
Staying in Istanbul for more than 3-4 days?  Go for an out of Istanbul tour.
Discover archaeological findings, art collections, landmarks from centuries ago and much more.  Choose your tour and enjoy Istanbul!
Day tours
After a boat tour by Tim Griffin
Explore Istanbul with a knowledgeable tour guide on a day tour as part of Istanbul tour package.  Select from a walking tour or a boat cruise along the Bosphorus.  Learn about Blue Mosque, Hagia Sophia, Topkapi Palace, Dolmabahce Palace and other Istanbul landmarks in one day.  Hear out the legends and historical facts about the city.  Choose multi-day all-inclusive tours with accommodation for a worry-free vacation. 
Most tours offer hotel pick up and drop off for the tour. End your day by experiencing the Turkish culture.  Join Turkish dinner either at a restaurant or a Turkish family.  Enjoy the show at dinner time with belly dancing and live music.
Tours are well planned with free time scheduled.  These are day-long tours.  Reserve your whole day for city plus dinner tour.
- More about day tours in Istanbul -
On shore tours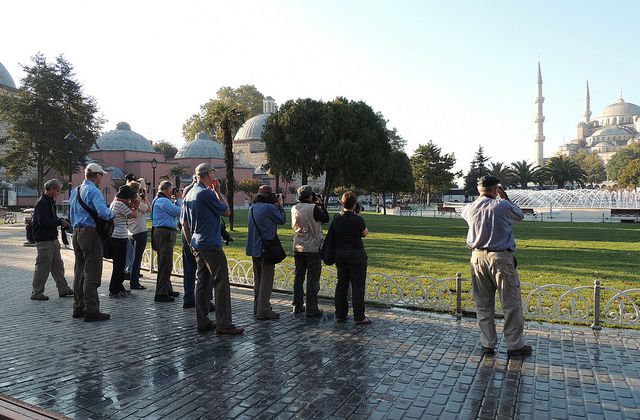 On a tour by Anita Gould
On shore tours are specially organized for visitors arriving to Istanbul on cruise ships.  Get off your cruise ship to be picked up by a tour guide.  Select from shore tours with dinners and shows or just hop on a comfortable couch to drive around evening Istanbul with history of 2,500 years old.
- More about Istanbul shore tours -
(!) If you arrived to Istanbul by cruise ship book private transfer to get to your Istanbul Hotel from port 
Food tours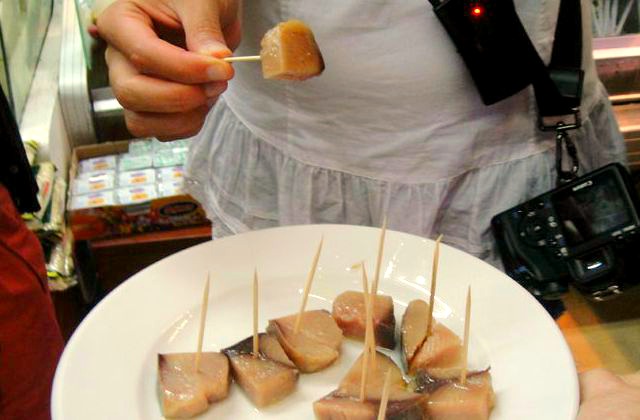 Trying fish on a food tour
Food lover or not, on diet or not, food experience is an important part of any trip.  Go on a food tour in Istanbul with local expert guide to tell you about Turkish food culture and history.  Most tours are on foot.  Be prepared to walk and select comfortable shoes to wear.  Spend your evenings entertained by live music and eat varieties of great local food.  Be part of one of the tastiest Istanbul tour packages.
- More about Istanbul food tour options -  

Hop on hop off Istanbul bus tours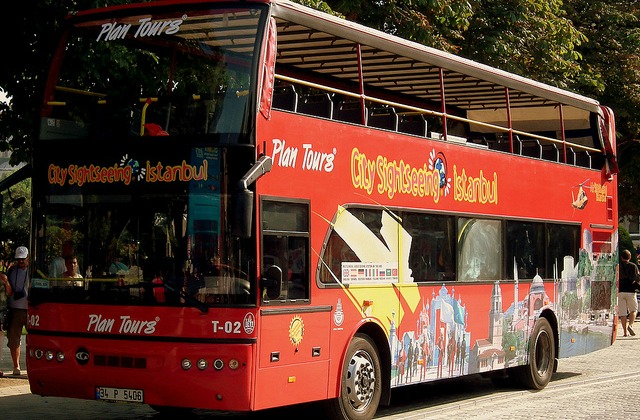 Hop on hop off bus in Istanbul. Photo by calflier001
Get a guided tour around Istanbul on a bus.  Select from a dozen of stops in the city, two route lines and a multi-language audio guide.  Hop on where you wish along the route, hop off whenever you decide to leave.  Hop on hop off is a great way to tour the city of 7 hills if you are short in time.  The longer - Red Line - of the route takes 2 hours to complete and has 11 stops.  Hop on a Blue Line for a shorter 1 hour 25 minute-trip with 7 stops if you are pressed in time.   
- More about routes and hop on hop off Istanbul - 

Walking tours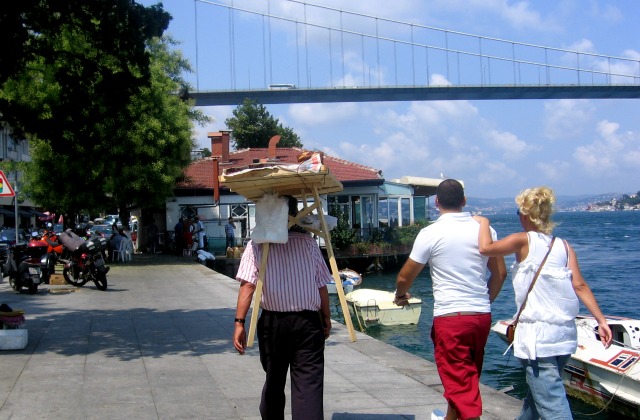 Walking on Rumeli Fortress
Walking tours in Istanbul are a great choice in a nice weather.  Most tours provide hotel pick up and drop off, or a convenient meeting point. Some walking tours include travel by ferry.  Needless to say you will get a professional attentive tour guide.  Get your comfortable shoes and enjoy discovering Istanbul!
From Istanbul tour package options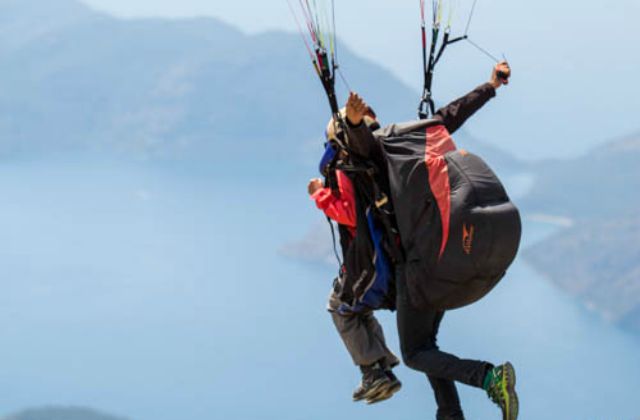 Paragliding by sunriseOdyssey
Get a trip for a day or two away from Istanbul to get a better picture of what Turkey is like - Troy, Izmir, Bursa, Chanakkale, Cappadocia, Ankara.
Most day trips will pick you up from your hotel in the morning and bring you back in the evening.  Most tours include meals (breakfast and/or lunch).  Professional certified tour guides will accompany you.  Fill your day with insightful stories and legends about a region you selected to visit. Choose from jeep safari, paragliding, tours to natural wonders and UNESCO heritage sites.  Spend one day outside of the mega city time permits.  Enjoy your Istanbul vacation!
- More about tours from Istanbul -
From Istanbul to Cappadocia packages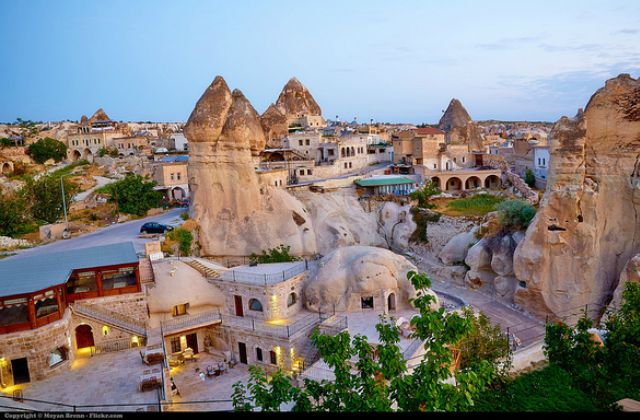 Cappadocia by Moyan Brenn
Cappadocia is located in the heart of Anatolia.  Take a glimpse at the region with unique natural wonders if you have at least one extra day. UNESCO listed some sights in Cappadocia in its World Heritage List. Choose from a number of worry-free tours.  All arrangements including transportation and accommodation (in case of long tours) will be taken care of for you.  A team of professional and friendly tour guides will be by your side at all times.    
- More about 1 or 2-day tours from Istanbul to Cappadocia - 
- More about multi-day tours from Istanbul to Cappadocia - 
Turkey tours
Explore more of Turkey with extended guided tours from Istanbul.  Fly or take a comfortable coach to go to Ephesus, Pamukkale, Cappadocia, Ankara - capital of Turkey, and other historical sites.  From Istanbul tour package usually includes all transfers and most meals.  Save by selecting a tour without an air plane ticket, or book early and get a discount.
- More about Turkey tours from Istanbul -
Hagia Sophia tours
Take a guided tour to one of the most extravagant constructions in Istanbul - the Hagia Sophia. Let the knowledgeable guide walk you through this magnificent building with its stories and legends.  Tours range from 3 hours to full-day, from private to small-group, with other major attractions included on the route.  Hagia Sophia is a museum and usually has long lines to enter.  Consider skip-the-line tours to save time.
- More about Istanbul tour package with Hagia Sophia - 
Blue Mosque (Sultan Ahmed Camii) tours
Guided tours of the Blue Mosque are offered first thing in the morning or in the early afternoon for 3,5 hours.  This Istanbul tour package also includes visiting Topkapi Palace, Basilica Cistern or other tourist attractions.  Private tours are the most popular among visitors, yet there is a great selection of Blue Mosque small-group tours also.  
- More about Istanbul tour package with Blue Mosque - 
Grand Bazaar (Kapali Carsi) Tours
Historical and largest covered market located in Istanbul - the Grand Bazaar - is one of the attractions that certainly require a guide.  Save time and let your designated guide tell you how 61 streets of the Bazaar are organized.  Select a shopping tour at the Grand Bazaar if you are looking for something specific.  Other packages include visiting Egyptian Bazaar, Basilica Cistern or Hagia Sophia.
- More about Istanbul tour package with Grand Bazaar - 
Tours along Bosphorus Strait
Take a tour along the Bosphorus Strait and enjoy the narratives about beautiful palaces and mansions located along the shores.  Tours are provided on private boats for half a day.  Both individual and group tours are available.  Stop by Dolmabahce Palace or Rumeli Fortress as you discover the waters of the Bosphorus.  Book early to reserve your space.
- More about Istanbul tour package with Bosphorus Strait - 
Golden Horn tours
Your beautiful tour of the Golden Horn will last half a day with a choice of morning or afternoon departure.  Discover tales of Istanbul as you cruise down the Golden Horn under the Galata Bridge with stunning view of mosques, historical houses and shops.  Select a tour with cable car ride to go up to the Pierre Loti hill as part of your tour.    
- More about Istanbul tour package with Golden Horn - 
Egyptian Spice Bazaar tours
Tours at Egyptian Spice Bazaar are combined with a tour on the Bosphorus due to convenient location of the bazaar by the Strait.  The tours take half a day and are filled with interesting stories of the history of the 17th century bazaar, secrets of its shops and merchandise.  You will have a chance to find and purchase a herb of interest, look around and experience the unforgettable smell of the spices.
- More about Egyptian Spice Bazaar tours -
Topkapi Palace tours
Join one of the most informative tours at Topkapi Palace in Istanbul.  Your guide will walk you through the parks, fountains, rooms and places of worship located on the territory of the palace.  Hear out legends and insider stories prepared for you by the knowledgeable guide.  Select from private or group tours.  Duration of tours starts from 3,5 hours.
- More about Topkapi Palace tours -
Dolmabahce Palace tours
Tour opulent Dolmabahce Palace in Istanbul with a knowledgeable guide. Hear out history of the famous crystal chandelier and wealthy decorations.  Learn about the rumors Sultans' families lived in and true stories of Ottoman rulers and life of founder of Turkish Republic Mustafa Ataturk.  Tours range from private full-day with visits to the harem (the women's quarters) to half-day tours as part of the Bosphorus cruise.    
- More about Dolmabahce Palace tours -
Suleymaniye Mosque tours
Tours with Suleymaniye Mosque last for half a day and include visits to Topkapi Palace, Grand Bazaar or a ceramics workshop.  Meet with your guide in front of the Hagia Sophia to start your journey and feel free to ask questions as you explore this imperial masterpiece. 
- More about Suleymaniye Mosque tours -
Basilica Cistern tours
Dive into the main water source of mid-500s - the Basilica Cistern in Istanbul.  Your guide will tell you legends and stories of the world-famous Medusa Head located in the cistern.  The structure is also known as the Underground Palace and takes about an hour to tour.  Tours with Basilica Cistern are usually combined with nearby Hagia Sophia, Blue Mosque and Grand Bazaar.  Duration of tours ranges from 3,5 to 8,5 hours.    
- More about Istanbul tour package with Basilica Cistern -
(!) Read an honest opinion about Istanbul by a Japanese traveler and see if your view of the city coincides.