[Home]

›
[Things to do]
› [Istanbul Bazaar]
Istanbul Bazaar
top 
Traditional Historical Markets in Istanbul
From Persian bazaar means a market.  Istanbul bazaar choices are countless.  The Grand Bazaar is a good start for shopping in Istanbul but do make sure you continue to the street shops and modern shopping malls that are all over the city.  Welcome to shopaholic's heaven!
(!) Remember to pick up Tax Free Refund envelope for purchases over 110 Turkish Liras.
---
The Grand Bazaar (Kapali Carsi in Turkish)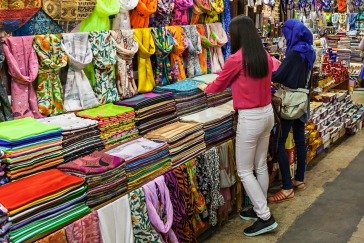 Location: Beyazit, Istanbul
Hours: Monday-Saturday 09:00 - 19.00.  Closed on Sundays, public and religious holidays.  
The Grand Bazaar is a number one shopping place in Istanbul as well as a popular Istanbul tourist attraction.  With this in mind, remember to tripple check the price (bargain!) for a desired item.   
Find here leather clothing, leather shoes and bags.  Look through colorful decorative home items such as lamps and carpets.  Hold your breath at jewelry shops of all kinds.  Dive into the antiques.  All of these are at abundance at The Grand Bazaar in Istanbul.     
This Istanbul bazaar has about 3 000 shops.  It's a shopping paradise!
Some get a private guide especially to shop at this bazaar.
---
Arasta bazaar (Arasta pazari in Turkish)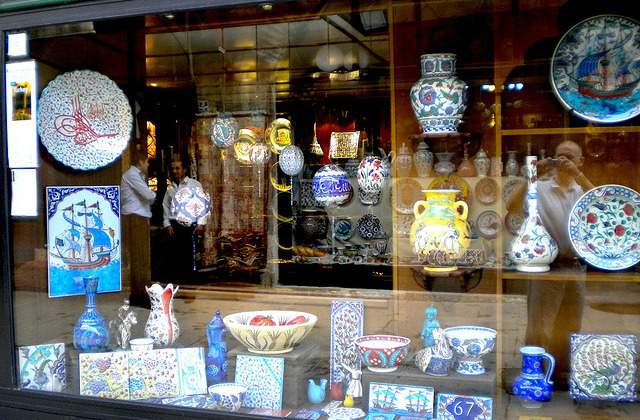 Photo by Dario Morandotti
Location: Arasta Carsisi street No: 143, Sultanahmet district, Istanbul (behind the Blue Mosque)
Hours: Every day 9:00 - 19:00.  Not all shops are open on Sunday.
Arasta bazaar is a smaller and a more laid-back version of the Grand Bazaar.  Go for the textiles, carpets and jewelry shops here.
Devoted collectors prefer this market for shopping.  A cozy atmosphere and genuine nature of shop owners makes the Arasta bazaar a shopping destination for shopping gem gurus. 
 Among top recommended shops are 
Jennifer's Hamam with organic cottons, towels and tablecloths, and 
Djem Unique Design with original handbags made out of antique kilims.
Hang around this Istanbul bazaar until it gets dark.  Stop by a nearby cafe here for a free whirling dervish show.  Not exactly a must-do but you can get a feel of what those "whirlings" are about for free. 
Go to Mosaics Museum located inside the Arasta bazaar.
---
Istanbul bazaar for fish (Balik pazari in Turkish)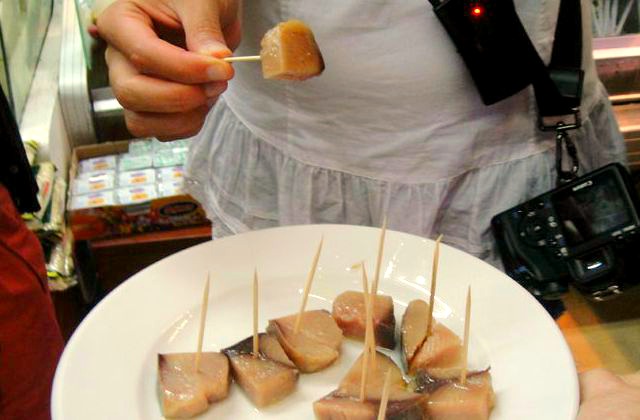 Location: Beyoglu, Taksim, Istanbul (off street on Istiklal Avenue)
Hours: Open every day
Food is important!  This fish bazaar is the best place in the city for fish shopping.  Top restaurants in Istanbul buy their seafood here.  Seabass, seabream, acorn, calamari, shrimp, octopus are only a few examples of a great seafood variety here.

There is a number of small restaurants on this street that would cook the fish for you.  Prices are reasonable.  Service is great.  The taste is unforgettable.
---
Egyptian Spice Bazaar
(Misir Carsisi in Turkish)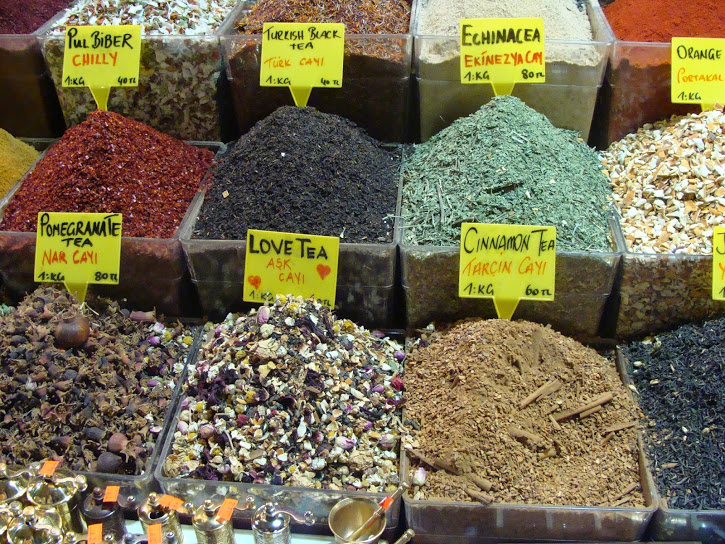 Location: Eminonu-Fatih, Istanbul
Hours: Every day Monday-Friday 8:00 - 19:00. Saturday 8:00 - 19:30.  Sunday 9:30 - 19:00.  Closed on religious holidays and October 29 (Holiday of the Republic of Turkey).
Spice Bazaar is also known as Egyptian Bazaar.  Look for aromatic herbs, spices, teas, medicinal plants, oils, essences you can imagine.  It is a two-street market, L-shaped, with 88 shops in it.
Definitely the best smelling bazaar in Istanbul!
This market connects to the Grand Bazaar through inside streets.  Walk out of the Spice Bazaar (or vise versa, the Grand Bazaar) and continue through streets also filled with shops.
---
Organic food market
Greens at organic market
Location: Lala Sahin Street, Ferikoy, Sisli, Istanbul.  Take a taksi or walk from Osmanbey metro (20 minutes).
Open on Saturdays from 7:00 am - 5:00 pm.  
(!) Shop and restaurant owners usually shop at a very early hour.  At about mid day more fresh supplies are brought to the bazaar.  
Organic market in Istanbul (also known as 100% ecologic bazaar) are open air markets where suppliers from all over Turkey sell their products.  Find here fruits and vegetables, greens, honey and nuts, grain and even some clothes made of organic cotton.  Istanbul has many shops selling organic products, yet this market is the most popular among locals and visitors for organic products.
Istanbul bazaar for second-hand books
(Sahaflar Carsisi in Turkish)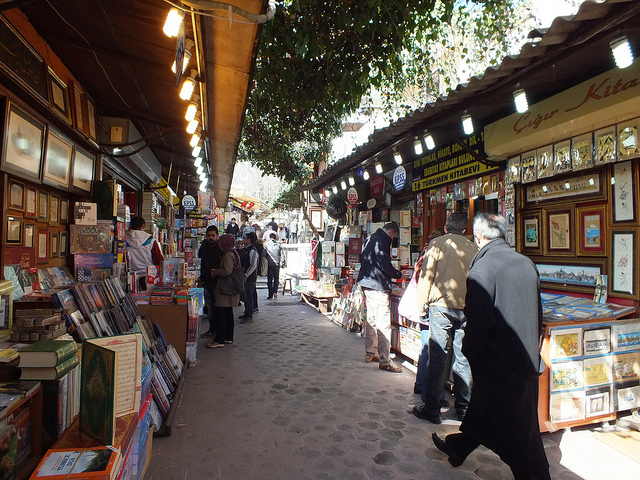 Photo by Pi István Tóth
Location: Beyazit, Istanbul
Open Monday-Saturday.  Closed on religious and public holidays.
Sahaflar Carsisi is favorite Istanbul bazaar of book lovers.  Great place for book souvenirs.  You can find religious and historical books, maps and even culinary publications here.    
This is a historical place.  Scholars of Ottoman Empire shopped here!  
More of an attraction than a useful book market today.  In modern history University students used to purchase their school books in this Istanbul bazaar. 
Shopping by area
Istanbul is a huge city.  Check out most popular districts for shopping.
Istiklal Avenue
(European side of Istanbul)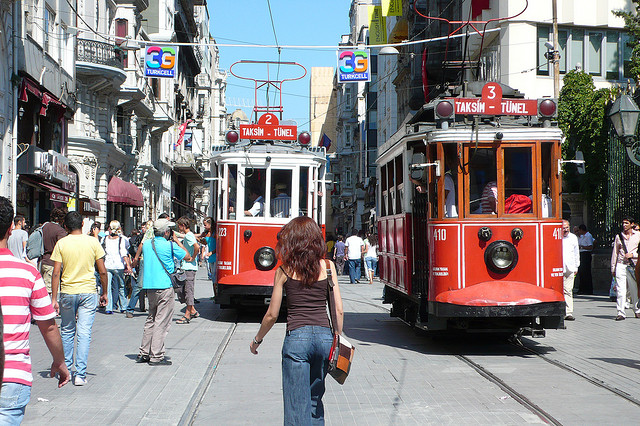 Photo by Christopher
Location: Beyoglu, Taksim, Istanbul
Shops open every day 10:00 - 22:00
Istiklal Avenue is 1.6 kilometers (1 mile) of boutiques and chain stores.  This is a historical street with buildings from 19th and 20th centuries.  Millions of people visit this street every day.  This is a very popular Istanbul shopping place.
Art shops, clothing and shoe stores, music and book shops, cafes and restaurants are all here.  The street is especially reserved for pedestrians only. The only transportation allowed here is the Nostalgic Tram.
---
Bagdad Avenue
(Anatolian side of Istanbul)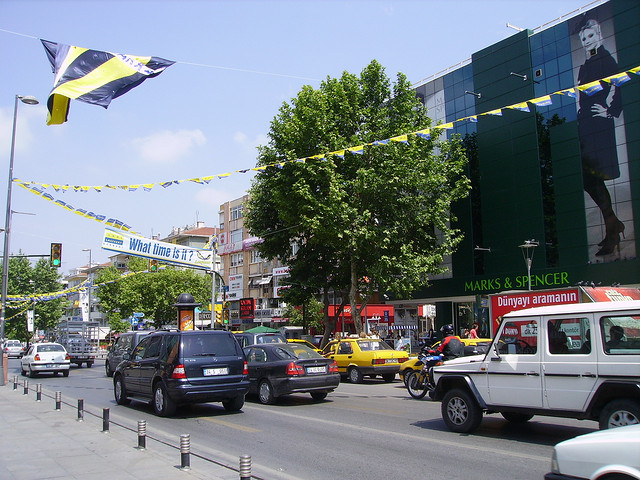 Busy street on Bagdad Avenue. Istanbul. Photo by Ekinny
Location: Maltepe-Kadikoy, Istanbul
Shops open every day 10:00 - 22:00.  
Modern street on Anatolian side of Istanbul.  Bagdad Avenue is home to shopping malls, fashion brand stores, cafes and restaurants of all kinds.  This is favorite Istanbul shopping location of Anatolian guests. 
Bagdad Avenue is a glamorous street to shop at.  It was rebuilt drastically in the past several years.  It is home to upper class residencies.   
Big plane trees grow on both sides of 6 kilometer-long (3.7 miles) street.  Sea of Marmara coastline is one block away from the Bagdad Avenue.
You can take a ferry here (Kadikoy stop) from Kabatas.
---
Istanbul bazaar for public
(Halk pazari in Turkish)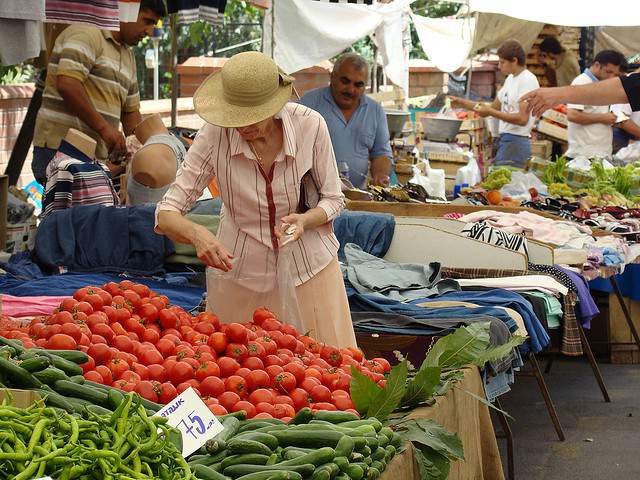 Photo by one2c900d
Location: various districts of Istanbul (see below)
Open on certain days (see below) 8:00 - 21:00
If you are looking for shopping adventure Istanbul bazaar for public is the place to be.  Check out Istanbul's public bazaars (also known as urban bazaars, society bazaars or neighborhood bazaars).  
Dig in in all types of clothing (from underwear to coats), shoes, home items (towels, linens, curtains, rugs, etc), local fruits and vegetables here.  Prices start at 1 Turkish Lira.  This is not a flea market.  
Fun is the word for this type of shopping.
Mix with the locals.  Dig in and have fun.  Brand name quality pieces can be found.  Sellers say all items are redundant export.  Nobody knows if this is true.
Markets are set up on different days of the week in different parts of the city. These bazaars are so popular, locals have an expression "This place is like a Tuesday bazaar" meaning the house is messy/untidy.
Below is a list of the most popular Istanbul bazaars for public. 
Besiktas - every Saturday. Take a tram to Kabatas stop and then a taxi. First floor of Besiktas bazzar offers food, second floor - clothing.
Kadikoy - every Sunday. Take a ferry to Kadikoy from Kabatas or Besiktas.
4. Levent - every Tuesday. Take a tram to Kabatas stop and then a bus or a taxi
Ulus - every Thursday. Take a tram to Kabatas stop and then a bus or a taxi.
---
Nisantasi quarter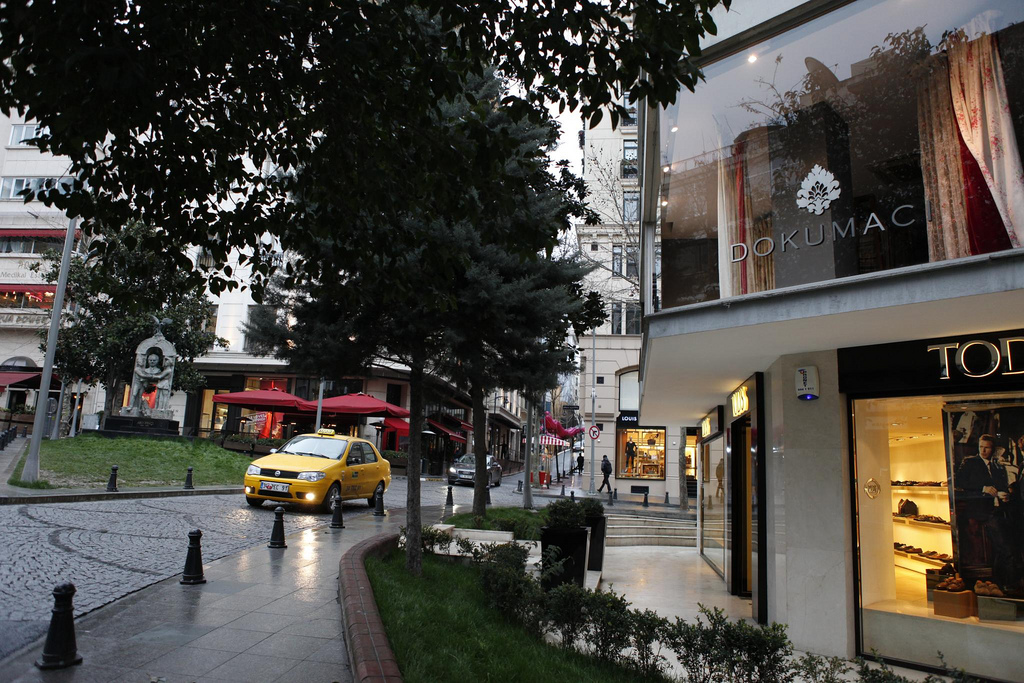 Photo by Debraj Ghosh
Location: Nisantasi, Istanbul
shops open every day 10:00 - 22:00
From Turkısh "nişan" meaning "mark" and "taş" meaning "stone" Nisantasi is a marking stone for exclusive shopping in Istanbul.  It has always been!  Find here exclusive designer shops, brand name stores, even upper scale wholesale merchants.  This is a residential area as well.  Go for modern restaurants, cafes, pubs and nightclubs here.
This is a chic district.  Enjoy the quality service and surroundings on Abdi Ipekci Avenue.  The main street of Nisantasi.
The marking stones from Ottoman times are still on some pavements of Nisantasi today.  Sultan himself practiced his archery skills in this area. The stones show records of Sultan's archery range.
---
Shopping malls 
(Alisveris merkezi -
AVM in Turkish)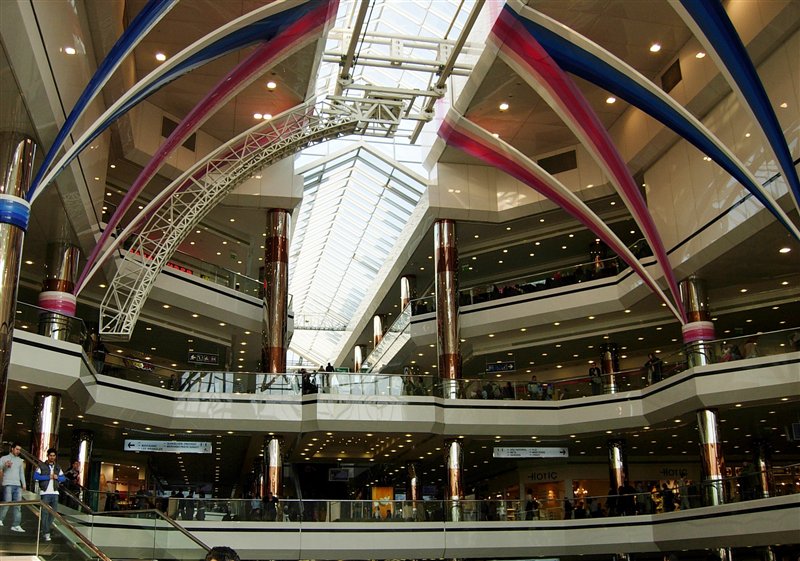 Cevahir Shopping Center Photo by Xiquinho Silva
Location: various districts of Istanbul

Hours: Every day 10:00 - 22:00
Istanbul shopping malls are very popular among locals for shopping and entertainment.  The facilities are ultra modern and located rather densely in residential areas.  Go for Turkish and international brand names here.  
Every shopping mall has a food court.  Most malls have cinema, hair and nail salon, entertainment corner, fitness and spa.  Some provide free transportation, called "service bus", to and from the mall.  Usually there is no WiFi on the premises.
There are around 50 malls in Istanbul.  Most popular Istanbul shopping malls are:
212 Power Outlet - Bagcilar district - Take bus 89C or 89T from Taksim.
Cevahir (walking distance from 

Ataturk's House

) - Sisli district - Take a metro to Mecidiyekoy/Sisli stop from Taksim. 

Istinye Park - Sariyer district - Take 40B bus from Besiktas.
Kanyon - Levent district - Take M2 metro (green line) to Levent stop (not Levent 4!)
VIALAND Mall

 (also a 

theme park

) - Eyup district - Take a bus from Eminonu (bus No. 47 or 47E), 

Taksim

 (bus No. 49T) or Aksaray (bus No.39). 



Zorlu Center (also a Performing Arts Venue) - Besiktas district - Take bus 58S, 25T or U2 from Besiktas.  
Like it? Pin it!