[Home]

›
[Attractions]
› [Miniaturk]
miniaturk

Discover Mini Turkey in Istanbul
Miniaturk in Istanbul is the largest miniature park in the world with 126  models in it.  Ruins, castles, mosques, temples, bridges - all in one place.  Covering a territory of 60.000 m2 (645.835 square feet), enough to park at least three Boeing airplanes, the park became a great family attraction among Istanbul tourist attractions.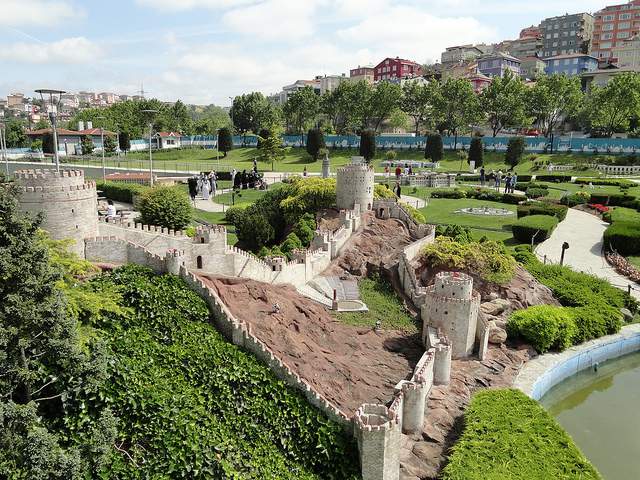 Model of Rumeli Fortress
Location: Sutluce Mahallesi, Imrahor Caddesi, Beyoglu, Istanbul.
How to get to miniaturk: Take a bus
from Eminonu 47, 47C (E or N). 
from Taksim 54 HT, 36 T.
from Topkapi 41 St.
from Mecidiyekoy 54 HS.
The museum is located on the shore of Golden Horn, across from Eyup.
Hop on hop off Istanbul tour bus stops here too.
Price: 10 Turkish Liras. Only cash in Turkish Liras is accepted.
Hours: Open every day 9:00 - 18:00

This is an open air museum with mini constructions from more than 3.000 years in history.  You can find buildings in their smallest detail from Anatolia (Asia Minor, now the Asian territory of Turkish Republic), Istanbul and what used to be Ottoman territory (Saudi Arabia, Egypt, Romania, Bosnia and Herzegovina, etc.)

The green space of the park makes up the majority of the museum, which comes to 40.000 m2.  There is a restaurant for you to take a bite at, a playground for children, parking lot if you drive your car and 15.000 m2 of miniature structures right at your feet.
Because this is an open space attraction, summer time is when the most activities are organized.  If you are looking for things to do on the weekend, check out concerts, theatrical performances and exhibitions here during summer.
This is certainly one of the best Istanbul tourist attractions if you are traveling with children.
---
Construction and history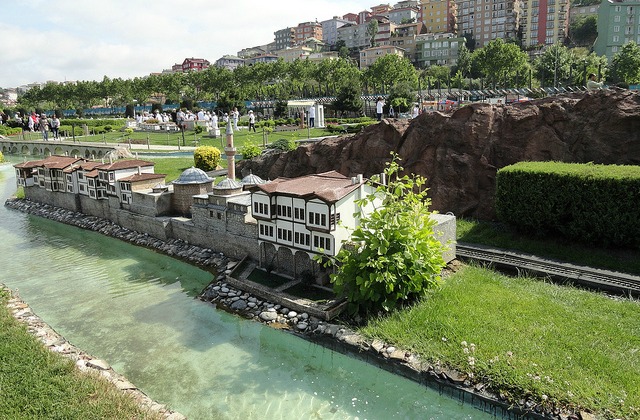 Model at the miniature park
The museum was inspired by similar parks in Amsterdam and London.

A committee from Turkey went on an extensive research of open air parks available overseas and came up with a design unique to Turkish territory.  
The historical time frame chosen covers over 3.000 years and is represented in models from Antiquity, Roman Empire, Byzantine Empire and Ottoman Empire.  
The construction started in June 2001 and was fully complete and ready for its visitors in May 2003.   Miniaturk only took 22 months to build.  
The fastest park ever built in modern history.   
---
---
The models
The park has a historical committee which decides what architectural structures will be presented in the museum.  After the selection is made, another team of experts takes over and goes to the real structure, takes pictures, analyzes it and designs a mini model on a computer.
It takes a highly skilled set of architects and designers as well as modern software to make such a detailed reproduction of any construction.
There is a total of 13 workshops both in Istanbul and outside of it which make the mini buildings.  A standard worldwide scale of 1/25 is used during the modulation of mini sites. 
It takes an average of 7-8 months to make a large model.  Smaller ones are built faster.  They can take from 20 days to 1 month.
As the mini constructions are placed under the sky they are subject to weather conditions.  Bright sun, rain and snow may damage the constructions.   With that in mind, there is a special material used for making the miniatures. 
Polyurethane based material with mixed marble dust, plastic and glue in it is a perfect substance for such constructions.  When material is selected another important criterion - durability is considered.  
The selected mixture is expected to serve under any weather conditions for at least 30 years.
To the date Miniaturk museums hosts 59 pieces of architectural sites from Istanbul, 55 from Anatolia and 12 buildings from other parts of the world.  One or two miniatures are added to the collection every year.
Crystal istanbul museum at miniaturk
This unique method of exhibiting landmarks of Turkey makes visitors admire the Crystal Museum.  
A three dimensional image in a crystal glass is truly a different way of looking at an attraction.  Laser is used to project a three dimensional image, a technique new to today's world and mostly used in space technology.   
So far there is a collection of 16 pieces in the museum.  Enjoy this different way of looking at your favorite places to visit in Turkey in a romantic dark atmosphere.  The room where the exhibition is dimly lit.  The models are also lit from underneath with different colors which change every 5 seconds.  
Your ticket includes entrance to this museum.
Panorama victory museum
Gallipoli Campaign during the World War I is depicted in this panoramic museum.  It was opened to preserve history by letting the visitors experience a day of a battle in Chanakkale.
Equipped with sound and light effects one can find himself in an environment of those difficult days.  Three dimensional models of soldiers and ordinary people put the visitors in an atmosphere of the year 1915 when the battle took place.
There is also an exhibition with pictures of Ataturk (founder of the Republic of Turkey) in the same hall and his famous sayings.  You don't need to buy an extra ticket to visit this museum.
Facts
Audio guide is available in 9 languages.




It will take you 1,5-2 hours to tour the entire museum but be prepared to spend a whole day there.




Jyoti Amge, the world's smallest woman, visited the park in 2003.




Pascal Nouma, French footballer, visited this museum in 2010.




Temple of Artemis and

Mausoleum at Halicarnassus, for example,  today can only be found in Miniaturk as they were destroyed in their homeland. (!)

Tours with remains of the Temple and Mausoleum in Ephesus

.


An amphitheater built in Miniaturk can hold 400 people in it.




Crystal glass used for Crystal Istanbul Museum is the largest in the world  




Remember to go on a helicopter simulation tour.



Rahmi Koc Industrial Museum is 5 minutes away by taksi.  Take advantage of the location and visit both museums in one day.