[Home]
› [Learning Turkish]
Learn Turkish easily

Self-teaching Books and basic turkish
Learn Turkish because it's an easy language to learn and see how it reminds you of French, if you speak any, of Arabic, if you know some, and even Romanian.  Learn a few Turkish phrases (see below) to make your trip to Istanbul more enjoyable and get to the bottom of local spirit.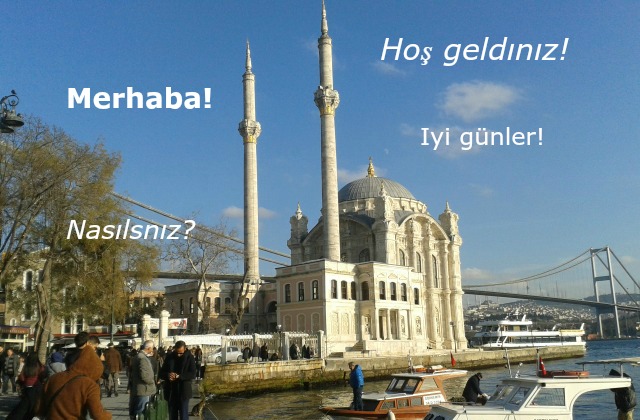 What to expect and start with
Turkish is easy to learn yet it is very different from any of the European languages.  
words are formed by adding an ending to a main word.  Be prepared to memorize some long many-lettered words.  
words in a sentence are organized in an order different from what one is used to in English.  Knowing separate words might not be enough to make up a sentence.  Be prepared for an odd (when you first learn Turkish) sentence structure.  You do get used to saying it the "Turkish way" eventually! 
Turkish is still one of the easiest languages to learn because:
14% of Turkish vocabulary has borrowed words from French, Arabic, Persian, Italian, English and Greek. 
rules are rules.  There are almost no exceptions to grammar rules in this language.  Learn them and you are welcome to use them all the time.
reading in Turkish is a blast.  Learn a few characters that don't exist in English and simply read every single letter you sea in a word. Each letter stands for one sound.  Stress in on the last syllable of a word.  You are done!  You can learn to read in Turkish in a blink of an eye. 
You have a great opportunity to practice the pronunciation with numerous TV series that Turkey produces and "ships" worldwide!
Very high chance of learning the language on your own!
Best way to start learning is to equip yourself with a good self-teaching book and CDs.
When I moved to Turkey, I didn't speak the language at all.  Someone suggested Rosetta Stone's courses on Turkish and I tried them.  Couldn't be more happier with what I got!  If I learned it, so can you!
---
Another great source of language class is CDs.  They are great for using while driving, doing home chores or simply you might be the audio learner who prefers listening to reading.
Pimsleur's guide focuses on conversational Turkish.  Each of 16 CDs provides 30 minutes of classes.
CDs are good for uploading to your iTunes as well as played in Windows Media Player.
---
Learn Turkish phrases and use them in every day life the minute you learn them.  You don't even have to know grammar to start using the phrases.  
"Making Out In Turkish" is a great guide to real Turkish as it is spoken in and around Istanbul.  
Note that over 100 million people speak Turkish worldwide.  There are accents and variations.  Language spoken in Istanbul is considered classical Turkish.
Group and  private classes
Another way to tackle Turkish language is to take a class with other foreigners.   I can only recommend places located in Istanbul and tested by friends and acquaintances.  Please fill out an enquiry form at the end of this page to see what is available on your dates in the city.
Length of classes varies from 1 hour to 3 months.  All teachers are native Turkish speakers and have been officially trained to teach Turkish as a foreign language.
Learn Turkish for free
Self-teaching books with exercises and grammar rules are great in number on the internet.  This guide of Turkish langugage in PDF offers the best and the most logical approach to self learning the language on its 282 pages.
This is a beginners course with introduction to grammar, exercises, 16 topics for discussion and learning, and Turkish-English glossary.  However, if you successfully complete the course you will have an intermediate level of spoken and written Turkish.
Bookmark this free course in PDF and welcome to the Turkish speaking community!
Introductory kit
Remember to simply read every letter.
Following are the Turkish characters not found in English alphabet:
Ğ - soft "g"  
Ü - sound between "u" and "e"  
Ö - sound between "o" and "e"
Ş - "sh" as in shop
I -  deep "i" as in cousin.
Ç - "ch" as in cherry
                                     Greeting:
evet

Merhaba

hayir

iyiyim

nasılsınız?

pardon

tesekkür ederim

yabanciyim

yes

Hello

no

I am fine

how are you?

excuse me

thank you

I am a foreigner
                                        Places:
bakkal nerede?

eczane nerede?

iskele

otogar

postane

tuvalet

Where is grosery shop?

Where is a drugstore?

ferry port, ferry stop

bus station

post office

toilet
                                     Numbers:
bir

iki

üç

dört

beş

one

two

three

four

five
                                     Phrases:
Afiyet olsun!




Elinize sağlık!




Kolay gelsin!




Seni seviyorum!

Git burdan!  Polis cağırıın.




Geçmiş olsun.

(My all time favorite phrase when learning Turkish)

to someone who is eating/drinking or has finished eating/drinking.

way of thanking for the prepared food.

to someone who is doing something or working on something.

I love you!

Get out of here! (Go away!)  Call the police.

Used to wish someone quick recovery from illness or any mishap in life.  Even used at hairdressers/barbers after getting a haircut or nails done.
| | |
| --- | --- |
| Iyı kı doğdun! | This is a Turkish version of Happy birthday!  Literally the words mean "So nice that you were born!"   |
| | |
| --- | --- |
| Iyı ki varsın! | Used to say "Thank you" in response to "Happy birthday" or various courtesies.  Exact translation of this phrase is "so glad/lucky to have you!" |
Contact us to learn Turkish
Send us further info request to our Facebook page.

Tell us when you would like to take the Turkish language class.
Do you prefer group or private lessons?
Coming with a friend?  How many of you are interested?
Length of preferred studies - hours, days, months.
And, of course, mention your name and email, so we can get back with exact information for you to learn Turkish in Istanbul.