[Home]

›
[Things to do]
› [Top Nightclubs]
Istanbul Nightlife
list of top spots for after dark hours
Istanbul nightlife can be full of excitement or calm and relaxing when you know where to go.   A great way to fill your after dark hours in the city is to go clubbing.  
Traveling during the summer season?  
Check out Istanbul beaches for nightlife activities in the summer!
If exploring Istanbul attractions didn't wear you out, these party places will!  Check out local party and gourmet-food lover's top choices below. 
---
Check out these tips on Istanbul nightlife
and make sure you get in
Clubs are open during state and religious holidays.
Remember to change your walking shoes to something nice.  Smart casual and festive dress codes are welcome. 
Drinks and food from outside is not allowed.
Check how many birthdays you had.  Minimum 18 is required!
Thursday, Friday and Saturday are the busiest nights.
Be prepared to climb stairs in Taksim, Beyoglu.  Clubs are usually located on top floors of old historical buildings there. 
---
Sortie night club
Sortie is a trendy remark of Istanbul clubs.  Nicely situated between Ortakoy and Bebek this club oversees beautiful night lights of Bosphorus Bridge.
Dress nicely.  Bouncers are friendly but do make sure guests observe the Festive dress code.
Dance away to a mix of Turkish and international music.  The club's atmosphere is soaked with energy.  
Get a table outside on a nice evening.  Sortie Restaurant serves great mediterranean food.  The bar has a good range of drinks and cocktails.
Location: Muallim Naci Street. No: 54 Kurucesme, Istanbul
Price:  Reasonably priced. Make a reservation to get a dinner table.  Call +90 212 327 85 85
Hours: club 23:00 - 3:00. restaurant 19:00-23:00

---
Ottoman lounge - Tugra
Tugra Restaurant and Lounge is a luxury night location at Ciragan Palace.  Several Ottoman Sultans lived in Ciragan Palace in the 19th century.  The grandiose construction today is a hotel and entertainment venue.  
Dive into exquisite and romantic atmosphere.  Taste what best chefs have to offer by Ottoman recipes.  
Be part of breathtaking Ottoman interior, the view of Bosphorus and luxury.
Move within the Ciragan Palace for more night experience - several bars, grill and restaurants are on the venue. 
Location: Ciragan Avenue 32, Istanbul.  On the Bosphorus shore.  Walk from Kabatas through Dolmabahce, along the Bosphorus (50 minutes).

Price: high-end prices
Hours: 11:00 - 12:00 midnight
---
Ulus 29
Ulus 29 offers romantic view of Bosphorus from the top of a hill.  Dine at their restaurant.  Get energetic at the lounge and club with mix of R&B, funk, hip-hop and Turkish pop.
Select from their impressive wine collection.  Bottles from France, Argentina and Australia made their way here.  Eat Turkish pizza (lahmacun), sushi or artichoke soup.  The food menu is of wide range.
Stay inside with floor to ceiling windows and dim interior lighting or breathe the air in an outdoor terrace.
Location: A. Adnan Saygun Avenue  No. 71/1. Inside of Ulus Park. Istanbul.

Price:  Reasonably priced. Make a reservation to get a dinner table.  Call +90 212 358 29 29
Hours: club 24:00 - 2:00. restaurant 19:00-23:00

---
Bar at Maiden's Tower (Kiz Kulesi in Turkish)
Sunset from Maiden's Tower by Christopher Irwin
Make the trip to Kuledebar on top of Maidens' Tower.  Treat yourself with a romantic Istanbul nightlife.  Spend time with your loved ones in the middle of the Bosphorus Strait.  Take a boat to a small island where the Tower is.  Make this your romantic warm up.  Sit and relax to nostalgic live music.  Enjoy the atmosphere of Byzantium legends.
Location: Kiz Kulesi.  Southern entrance of the Bosphorus. Take a private or taxi boat from any point at the Bosphorus.
Price: high-end
Hours: after 20:00
---
Samdan Etiler
Samdan Etiler is a popular club and restaurant with 30 years of experience.  The popularity has only grown over time.  Try their international cuisine menu and get cozy in great atmosphere.
Get nostalgic with French chanson early at night and progress to energetic disco till morning.  
Taste their chestnut souffle.  Consider artichoke salad and hummus with lamb on top.  Alltime goers say they are the best.
Location: Nispetiye Avenue No:92, Etiler, Istanbul.

Price:  Very affordable. Make a reservation to get a dinner table.  Call +90 212 263 4898
Hours: Open September - June. club 24:00 - 1:00. restaurant 20:30 - 1:00

---
Sunset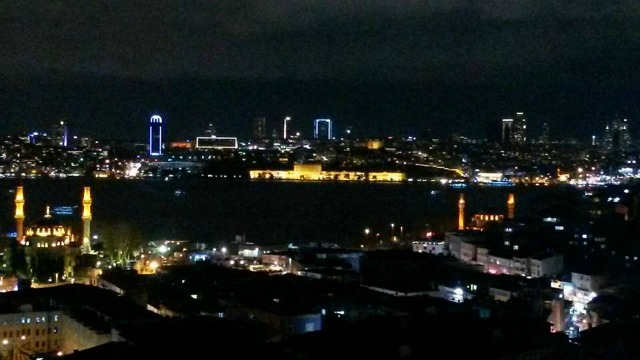 Sunset is a leader of fine dining in Istanbul nightlife.  Experience the modern restaurant and bar overlooking Bosphorus from a hill.
Dine with Mediterranean, Japanese and Turkish cuisine here.  Try their sushi and select from a wide range of wine collection.
Check out their plates from "Ribbons" collection.  They are limited edition created by Turkish artist Burhan Dogancay and Villeroy&Boch.
Location: Ulus disctrict, Adnan Saygun Avenue, Yol street, No: 2, Istanbul

Price:  High-end prices. Make a reservation to get a dinner table.  Call +90 212 287 0357 - 58
Hours: lunch Monday-Saturday 12:00 - 15:00. dinner every day 19:00 - midnight.

---
Fenix
Fenix is a newbie among Istanbul nightlife locations.  This is an elegant bar and restaurant.  Find yourself among tropical trees surrounded by good service.
Try their famous Asian fusion eating.   Menu is constantly updated.
Stay after dark to party at the nightclub.  Good music and exotic vibe are guaranteed.
Location: Nispetiye Avenue No:79 Etiler, Istanbul
Price: High-end prices. Make a reservation well ahead (several days) to get a dinner table.  Call +0212 265 55 88
Hours: Closed on Sundays. Open Monday - Saturday 12:00 noon - 4:00

---
La Boom
La Boom is a classy bar and restaurant with a calm view of Bosphorus. Peacefully located near Emirgan park La Boom turns into a great night spot after dark.
Try their new item on the menu - green tea creme brulee.  All food and cocktails are made of seasonal products.  
La Boom is among the most desired spots on Istanbul nightlife list.  Enjoy the great service and atmosphere.
Location: Sakıp Sabancı Avenue. No:14/A, Emirgan, Istanbul
Price:  Reasonably priced. Make a reservation to get a dinner table.  Call +90 212 277 8807
Hours: Open daily restaurant 9:00 - 12:00 midnight
---
Nuteras  - Nupera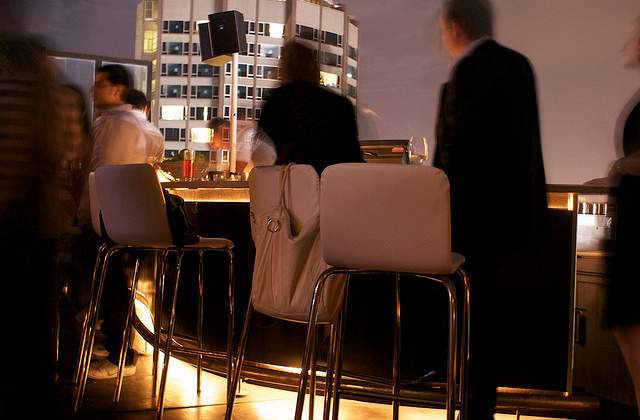 Photo by Julius Cruickshank
Nupera Is A Restaurant Located In A Historical French Passage.  Enjoy The Modern Design And Active Atmosphere.    

Nuteras Is A Rooftop Bar Overlooking Natural Harbour Golden Horn.  Enjoy Istanbul Nightlife Here With Special Concerts And Guest DJs On The Weekdays.  Remember To Dress Nicely.
Location: Mesrutiyet Avenue No.67, Tepebası, Beyoglu, Istanbul (Nupera building.  100 meters (328 feet) from Marmara Pera Hotel)

Price:  Reasonably priced. Make a reservation to get a dinner table.  Call +90 212 245 6070
Hours: Weekday 18:00 - 1:00.  Weekend 18:00 - 4:00
---
Colonie
Colonie is closest to historical part of Istanbul trendy restaurant and club.  Walk from your hotel in Sultanahmet to this location and enjoy your night hours.  

Select from simple and tasty menu.  Go for pizza, salads or Turkish meatballs (kofte).  Warm up with a great cocktail selection to start partying after 11:00 pm.
Mix with locals.  See for yourself what Istanbul nightlife has to offer.
Location:   Kemankes Avenue, No.87/A, Karakoy, Istanbul
Price:  Reasonably priced. Make a reservation to get a table.  Call +90 212 243 21 03
Hours: Weekday 12:00 noon - 12:00 midnight.  Weekend 12:00 noon - 2:00
---
Complete your Istanbul nightlife with 360 view from one of the two places below.
360 Istanbul East (Anatolian side)
360 Istanbul East is a glamorous rooftop restaurant, bar and club.   Take a look at magnificent Istanbul from the Asian side of the city.
Relax with a great view, tasty food and perfect service during the day.  Shake off the energy after dinner hours at club's energetic atmosphere.  Remember to follow the fancy dress code 360 club has.
Location: Caferaga district. Albay Faik Sozdener Avenue. No: 31, Kadikoy, IstanbulTake a ferry to Kadikoy.  Look for the tallest glass building DoubleTree by Hilton Moda.

Price: High-end prices. Make a reservation to get a dinner table.  Call +90 216 542 43 50 - 51
Hours: Weekday 12:00 noon - 1:00.  Weekend 12:00 noon - 4:00
360 Terrace (European side)
360 Terrace is a high-end spot of Istanbul nightlife.  Come for food and entertainment with a breathtaking view.  Count how many Istanbul landmarks you have seen from the rooftop here.
Get ready for a head spinning floor to ceiling glass windows and an immaculate service.  Party your night away with DJs after dark.  Make sure you change jeans into a nice outfit to correspond to the dress code. 
Location:  Istiklal Avenue, Misir Apartman (name of a building) 163, Beyoglu, Istanbul.  Take a metro to Taksim stop.  

Price:  High-end prices. Make a reservation to get a dinner table.  Call +90 212 251 10 42
Hours: Open every day 12:00 noon - 2:00
Reina Istanbul no longer exists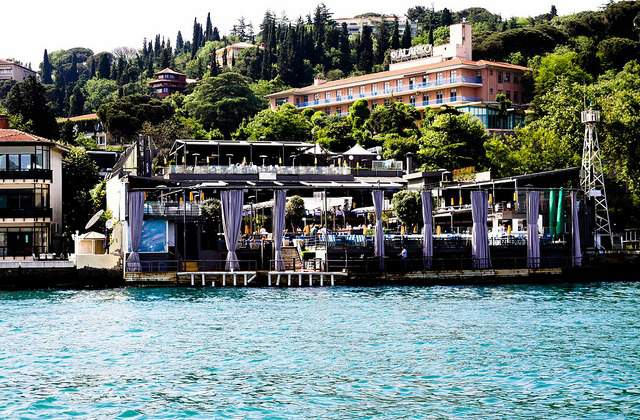 Former Reina club. Photo by Ayla
What once was on top of Istanbul's nightlife, Reina club today is demolished. One of the largest Istanbul clubs under the stars and right under the Bosphorus Bridge with history of world celebrities partying their nights away there today only reminds of a tragedy.
On the night of January 1, 2017 the club was attacked by a gunman leaving at least 39 killed and 70 wounded.  The club was temporarily closed then torn down on May 22, 2017.
Reina was located at Muallim Naci Street.No:44, Ortakoy in Istanbul.
---