[Home]

›
[Things to do]
› [Sultanahmet]
istanbul sultanahmet

About the Touristic area, Attractions & tips
Sultanahmet in Istanbul is the oldest historical district located in Fatih area.  It was founded on three of the seven hills of current Istanbul by Greeks.  In 657 BC current Sultanahmet territory was an old Greek city known as Byzantium. Later it grew and became Constantinople and then Istanbul after Ottoman Sultan Mehmed II ("the Conqueror") took the city.
Sultanahmet in Istanbul is a peninsula surrounded by the Golden Horn, Bosphorus and the Sea of Marmara.  This territory is home to most of the historical monuments from Roman and Ottoman times.
Historical sites located in Istanbul's Sultanahmet area are part of UNESCO World Heritage Programme.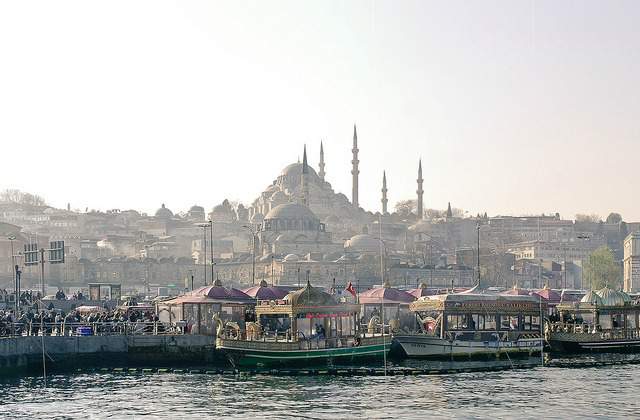 View of Sultanahmet from the water
Location: Sultanahmet, Fatih, Istanbul.
Take T1 tram to Sultanahmet stop.
---
---
Attractions in Sultanahmet district
Blue Mosque

(also known as Sultanahmet Mosque).  A historical mosque built in 1616 by Ottoman Sultan Ahmed I whose tomb is in the Blue Mosque's yard.  This mosque is active today.

Basilica Cistern.  This is a large underground cistern (Turkish: Yerebatan Sarnici) built during Byzantine times.
Great Palace Mosaics Museum.  The Great Palace did not survive to our days. It was a residence of Byzantine emperors.  The Great Palace Mosaic Museum displays Byzantine mosaics from years 300-1000.

Gulhane Park.  Turkish: Rosehouse park.  This is the oldest and largest public park in Istanbul.  Enjoy the tulip festival here in April every year.
Hagia Irene.  First Eastern Orthodox church built in Constantinople in 4th century.  Hagia Irene is a museum today inside of Topkapi Palace (closed on Tuesdays).
Hagia Sophia.  Built as Orthodox patriarcal church in 537, then became Roman Catholic cathedral during Latin Empire (1204-1261), then an imperial mosque during Ottomans rule (1299-1923), and now a museum.

Hippodrome.  Gathering place for residents of Constantinople, capital of Byzantine Empire.  Social and sports activities took place here.
Istanbul Archeology Museums.  Ottoman Sultan Abdulaziz ordered to establish an imperial museum in 1869 after being impressed with museums in Paris, London and Vienna.  Three archeological museums make up the Istanbul Archeology Museums - Museum of Turkish and Islamic Art, Museum of the Ancien Orient and the main Archeological Museum.
Topkapi Palace

.  First residence of Ottoman Sultans which served them for about 400 years (1465-1856).  Topkapi Palace is a museum now.
Istanbul Sultanahmet tourist tips
Safety tips
Be cautious and observant.  Protect yourself from pickpocketing and tourist scams.


Deny any offers to have a drink from random people on the street.  

Know that anything offered to you for free (a drink, a leather purse, city tour, shoe polish etc.) are more often than not a scam and aim at overcharging or hurting you.

Agree on price for shoe polishing before polishing your shoes.  Make sure you stress that the price agreed is for both shoes!

Travel in groups if possible.  Indecent people seem to avoid travellers in groups.

Don't be afraid to be impolite.  Tell the person you think is not kind to go away.

Keep in mind that price for the fish you eat under the Galata Bridge is for half of the fish.  You will be serviced half fish for something like 10 Turkish Liras.
Sultanahmet area in Istanbul, Turkey is where most travellers' adventures begin.  City's first stones were laid here, first conquests and landmarks were built here. 
Discover the city of 7 hills and enjoy your trip!