[Home]
› [Metro map]
Istanbul Metro Map

directions to popular touristic routes
Istanbul metro map is easy to read, yet see below how to get to and from most popular touristic points in Istanbul.  The map you see below shows European side of Istanbul where most tourist attractions are.  
To see the entire metro system in Istanbul click on the map below.  Take a closer look at it in a new window and find stops you need besides major tourist destinations.  
(!) Metro in Istanbul is safe and cheap.  It expands every day.  Take advantage!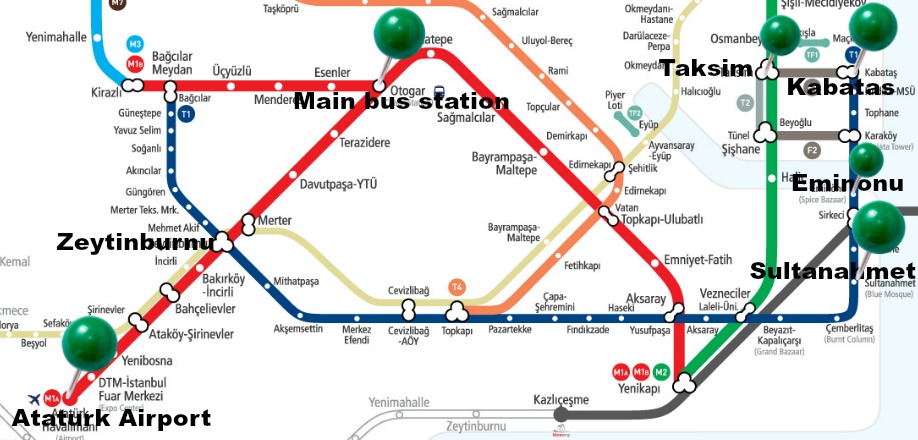 How to get from .... to ....
From Ataturk Airport to Sultanahmet (and vice versa)
Take the M1a red line that runs from the Ataturk International Airport. Follow signs inside the airport to find metro on the lower floor.  Change stations in Zeytinburnu to T1 blue line going to Kabatas.  You will need to walk a bit following signs to switch lines.  Get off in Sultanahmet. Travel time: About 1 hour 20 minutes
From Ataturk Airport to Taksim (and vice versa)
Take M1a red line from Ataturk International Airport to the last stop on the line Yenikapi.  It might look like changing to the T1 blue line will save you time but because of the switches which require walking you are better off staying on the M1a red line all the way till the end.  From Yenikapi take M2 green line to Taksim stop.  Travel time: About 2 hours
From Sultanahmet to Taksim (and vice versa)
Hop on T1 tram to Kabatas.  From Kabatas switch to F1 the Funikular. Stay within the tram area and look back to see F1 Funikuler sign. Taksim is only one stop away by Funicular.  Find yourself around Taksim Square after you get off the Funicular.  Travel time: About 20 minutes
If you like walking, take T1 tram to Eminonu.  You can check out the Spice Bazaar and then walk towards the Galata Tower in Taksim over the Karakoy district.  Walking time:  About 20 minutes.    The Galata Tower and Taksim Square are about 20 minutes apart via Istiklal Avenue. 
Tips on Istanbul metro map
Useful info
From Sabiha Gokcen International Airport you are better off taking airport shuttle Havatas (or Havabus shuttle) to Taksim than any other public transportation.  From Taksim continue by metro or taxi to your destination.
Pay for your travel with pre-purchased Istanbul Card or tokens.  More info.
Download phone application with Istanbul metro maps for I-Phone or Android.
Istanbul metro runs from 06:00 a.m. till 00:00 midnight.
No pets allowed in the metro.  Exception: guide dogs, small dogs with collars (on your lap), small pets in a cage.
No bicycles allowed during rush hours.  Extra charges for a bicycle apply.
Rush-hour times are 07:30-09:30 and 16:00-20:30.
History of the Istanbul metro
In the year 2004 Istanbul's railway metro line was 45 km (27.9 miles) long.  Istanbul Metropolitan Municipality decided to improve and add on the lines to meet city's fast growing population demands.  By the year 2013 length of the railway system went up to 141 km (87.6 miles).
In 2005 the most important line for tourists Eminonu-Kabatas was built.  It is 2.9 km (1.8 miles) long and brings everyone from the historical Spice Bazaar area to Kabatas last stop in 9 minutes (Dolmabahce Palace and access to boats going to Bosphorus tours, Princess Islands and Maiden's Tower are walking distance away from this stop).
In 2006 another useful line was built from touristic point of view - Taksim - Kabatas funicular.  It's only one stop and 0.64 km (0.39 miles) long.  The funicular lets passengers travel easily and comfortably between busy historical Taksim area to waterfront Kabatas stop. 
In 2009 Sishane-Taksim 1.65 km (1.02 miles) long line was added.  This is another one stop line on Istanbul metro map besides the Taksim-Kabatas funicular.  No additional payment is required to use this line if you are traveling from Taksim.
In 2013 an underwater tunnel Marmaray was built to take passengers across the waters from European to Asian side of Istanbul.  The tunnel runs from Sirkeci train station to Uskudar in 20 minutes.
Metropolitan Municipality aims to have a total of 776 km (482 miles) of metro lines built in Istanbul by 2019.  The goal is to have metro accessible 365 days per year, 24 hours a day.  The project includes a metro line from Sabiha Gokcen International Airport to Pendik stop on the Asian side in the year 2017.  
"Her yerde metro. Her yere metro." is Istanbul Municipality Municipality's principle, closest translation of which is "Metro everywhere.  Metro for everyone."  
Stand by for Istanbul metro map developments!  Safe travels!