[Home]

›
[Transport]
› [Pegasus Airlines]
Pegasus Airlines
Review of Turkey's popular Low-cost
Pegasus Airlines is a second largest airline in Turkey after Turkish Airlines.  Pegasus is famous for flights between Europe and Istanbul.
This is a private very popular low-cost airline established in 2005.  Most flights are carried out from International Sabiha Gokcen Airport (Asian side) in Istanbul.  However the airline is present in both Istanbul airports - Sabiha Gokcen and Ataturk and travels both within and outside of Turkey.  
In 2013 Pegasus Asia brand was introduced to the market in Kyrgyzstan.
Official webiste: www.flypgs.com 
See if Pegasus flies to/from the city of your interest.  The airline covers 40 countries in Europe and Asia.
---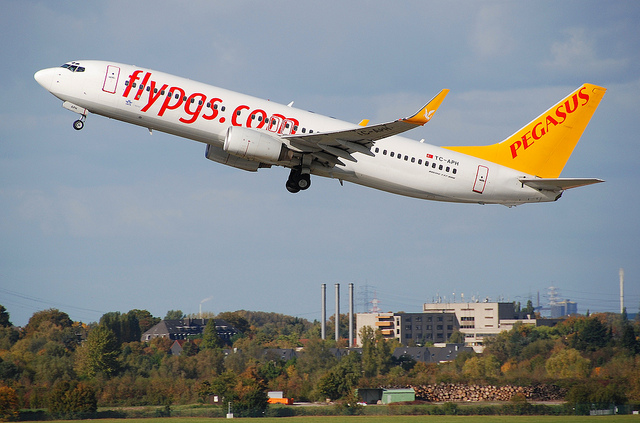 Pegasus plane taking off in Istanbul
Ticket prices
Pegasus Airlines offer prices that are hard to beat.  You can fly for as cheap as 50 USD from Istanbul to Frankfurt and back, for example, including taxes.  
Low-priced tickets are available in limited quantities.  First come first served bases apply, therefore buy the appealing ticket the minute you see it or it might be gone.  
Making a reservation gives you extra 12-24 hours to make a purchasing decision. 
Extra charges apply to:
seat selection
online check-in
meals and drinks
blankets and pillows
extra luggage (weigh every single ounce of luggage you posses!)
price freezing (when you pay for the price you see to stay that way for an extra day or two).
Airlines' official website is the best place to purchase the tickets. Agencies and ticket selling websites either don't list Pegasus or charge extra handling fees. 
The website allows you to purchase tickets for up to nine passengers at a time.
Purchase your ticket on the website no later than 30 minutes before the departure time.
How airplane ticket discount works
Watch out for special offers by the airline.  Promotions come in email, text message to your phone, given you provided the info, or advertised on the official website.  
The promised discount is applied to the actual fare but not the applied taxes and fuel surcharges.  The fare is roughly 50% of the total price.  
For a 50 USD ticket with 30% seasonal discount you will pay 43 USD and not 35 USD.
Countries
Pegasus flies to most European and Arab countries, Caucasus, three destinations in Russia (Moscow, Mineralnye Vody and Yekaterinburg), Delhi city in India, Almaty, Bishkek and Osh in Central Asia, and Urumci in Northwest China.  
Advantageous points and tips
Flights are available both at convenient and inconveniently late or early hours.  Trips at awkward hours cost less. Pick and choose what suits best your pocket and willingness to give up comfort sleep.
Ticket prices are divided into four categories - Basic, Essentials, Advantage and Extras.  Basic package only allows a handbag and is priced at temptingly low rate.  Hardly anyone travels with just a handbag.  This Basic package comes handy if you travel as a family/group.  Pay for additional weight on some tickets and stick to just Basic with a handbag for others.
Search for flights according to your budget.  If you have no specific destination and are only looking for travel options, consider searching for tickets using "search by budget" button.
Frequent flier program
Pegasus Plus is a frequent flier program by Pegasus Airlines for individuals over 18 years of age.  Dependent children can be added to the adult's Pegasus Plus program as an affiliate member.  In such case earned points are calculated jointly both for the adult and the child.
Points are easily redeemed during the purchase of your next ticket or airline's additional services (meals, luggage, etc).
Food at Pegasus Airlines
Food and drinks on flights are served for an additional price and the quality and choice remain poor.  You are better off replenishing your energy at an airport than on flight.  Bringing a sandwich might be a good idea!
Passenger complaints
Most passengers complain about very strict rules on luggage weight.  Read carefully how much free luggage you are entitled to (depends on a type of ticket purchased) and be sure the rules will be exercised.
Inflight entertainment is almost nonexistent.  The TV above your seat will show you technical details of your flight and no movies.  Bring your own leisure activity!